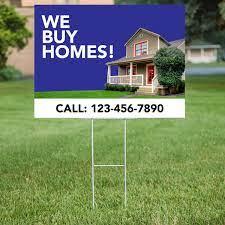 In today's digital age, it can actually be MORE impactful to use tried-and-tested, traditional advertising methods. Vinyl banners are easy to make, stand out, and look fantastic!
Big Daddy's Signs offers orders in a range of sizes, with full-color designs that can be customized based on professionally made templates. These have been created by the in-house team to maximize visibility, engagement, and impact.
Discover all the options at: https://bigdaddyssigns.com
That means your school and campuses across the country can more effectively advertise events, guests, education programs, and more. It comes as new industry research reveals adverts need an average of seven impressions before a prospect takes action.
Vinyl banners printed by Big Daddy's Signs have a weatherproof finish that allows them to be installed in any high-visibility area for an extended period of time. This maximizes the opportunities for students to see your messaging and increases the chance that they sign up or participate in the target promotion.
Each banner has a bold design with a wide selection of fonts to choose from, making them suitable for orientation, sporting events, and inspiring messages throughout the building. Interior banners can be created in a range of sizes through the Big Daddy's Signs service.
With new students arriving every year, versatile printed school signs can help them to find the right office, classroom, or conference. Custom designs can feature the school mascot and logo and be branded with the team's colors for all sporting events. The branded signage service also caters to clubs, societies, and activities arranged throughout the school year. Organizations can promote sign-ups, special events, training, guest speakers, and more.
Big Daddy's Signs underscores that its banner design service is a cost-effective solution for schools and colleges of all sizes. Each banner is printed on 13-ounce glossy stock, which is known for its flexibility and durability.
A spokesperson for the company states: "When designing your custom yard signs or auto magnets, choose from the many colors available at Big Daddy's Signs. We have plenty of colors and design samples to choose from. Our high-quality signs and professional print process makes us the printer of choice for realtors, contractors, general election signs, and companies looking to take their message to the next level."
Are you ready to take your advertising approach to the next level? You're just one click away from stunning vinyl banners!
Check out https://bigdaddyssigns.com for any extra info you need!