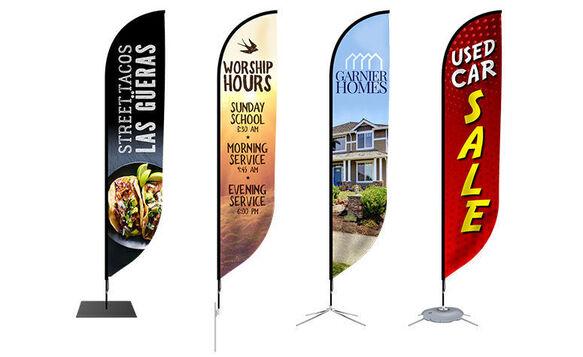 Colorful window clings can mean the difference between a passerby passing by your business and an interested customer ready to return! Get suitable advertising graphics from top US-serving printers - like Big Daddy's Signs!
Its custom-printed products can supply your small or medium-sized business with the means to boost visibility in your community. Eye-catching displays such as window clings and wall graphics can cement your company in the memory of pedestrians and passersby - which can help to attract local customers and clients.
Click https://bigdaddyssigns.com now!
Big Daddy's Signs offers expert sign-making capabilities with a process that has printed more than eight million signage items to date. Shipping all over the United States, the professional printers also provide you with products ranging from plastic lawn signs to vinyl banners, advertising magnets, flags, and many more.
Wall-mounted graphics and window clings serve as simple methods of displaying your essential contact information. As such, those passing by can be made aware of your business's appointment scheduling options, opening hours, and other details in advance of later visits.
"These products give customers easy access to your phone number and allow your name to be seen every day," says Big Daddy's Signs of its new custom-cut graphics. "They are made with durable vinyl and a laminate that protects your products from scratches, rain, and sunlight."
In addition, Big Daddy's Signs enables thorough personalization of its graphics and window cling products. You can choose from an extensive library of templates, submit your own chosen designs and artwork, or request specific design notes for implementation in the printing process.
Big Daddy's Signs also makes available such options as stickers - you'll love these items as suitable advertising accessories. They utilize advanced printing for high-quality results - get yours ASAP!
One prior customer said: "We have used Big Daddy's Signs for many years and would highly recommend them. Each order is done quickly, seamlessly, and is very affordable."
You can access simple order forms with customization and quantity request options at the company's official website or call them over the phone for further information.
Window clings and wall graphics make your business stand out from the rest - order yours from those who make 'em like they used to AND how they make 'em today, depending on your needs!
Head to https://bigdaddyssigns.com to learn more about Big Daddy's Signs and its wider signage offerings!