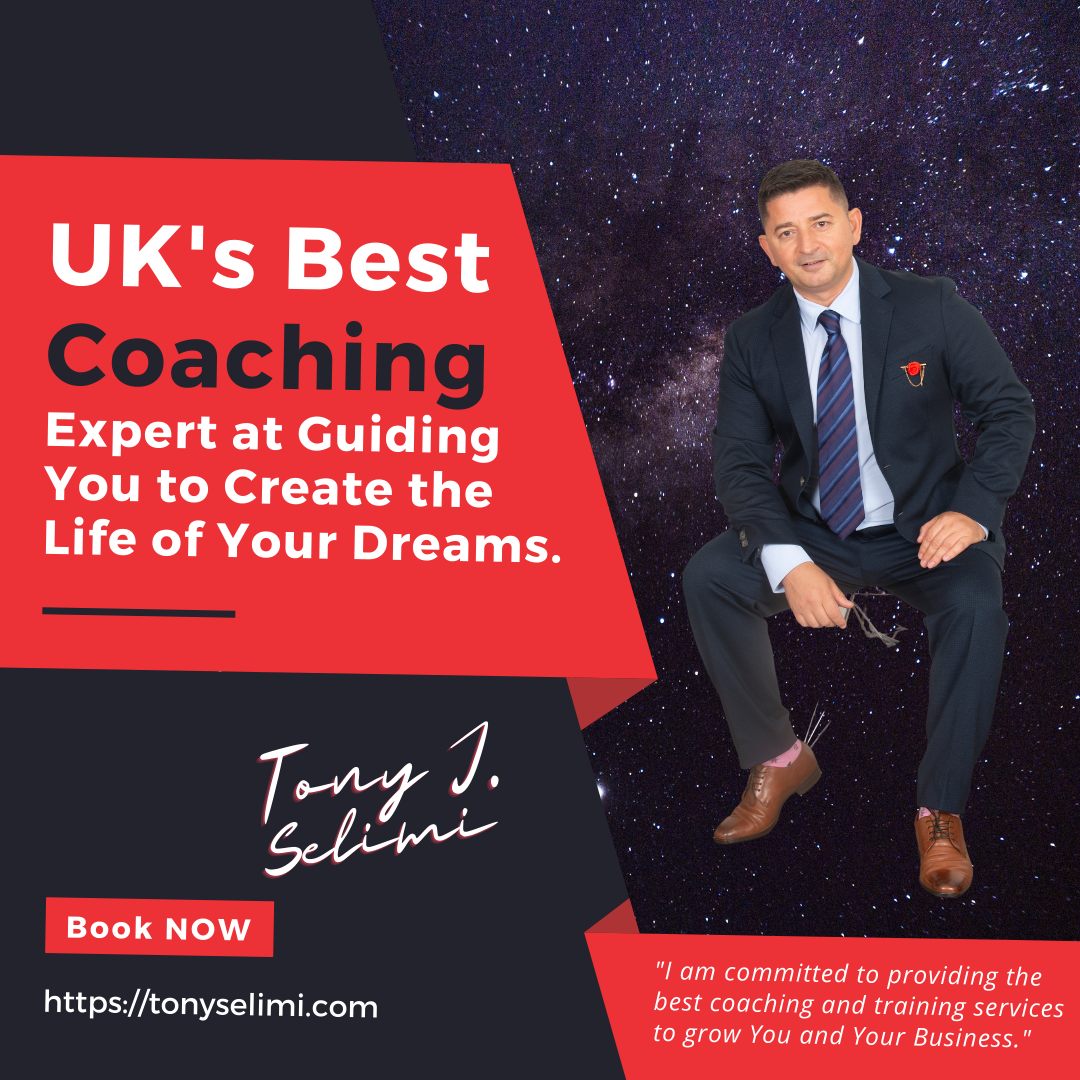 Have you reached a point in your career where things aren't as clear-cut as they used to be? Do you have trouble making pivotal decisions? Does the thought of standing before a boardroom full of attentive employees or colleagues fill you with apprehension? Dread, even? What about where you want to be in 5 or 10 years, do you have a substantial plan built to achieve your goals?
If you're having trouble putting the right plans in place to plot those next steps along your career path, it may be time to enlist the help of a recognized professional.
Tony J. Selimi, popular TEDx speaker, multi-award-winning author, and leading authority on human behavior and the psychology that fuels excellence can help.
Tony's award-winning business growth, success, and productivity business coaching packages offer transformational insights and little-known secrets to success that can make the difference between a mediocre career, and achieving the dream.
Tony has helped countless CEOs, business leaders and public figures push past self-limiting thoughts and behaviors so they can execute on their goals, and he can do the same for you.
Available now are Tony's transformational coaching packages, customized to achieve growth and success, and fuel productivity by overcoming fear, self-doubt, and indecisiveness.
Find out which coaching package is best for you at https://tonyselimi.com/services/coaching-packages
Tony's coaching packages are the result of 30 years of combined expertise in psychology, business planning, and transformational coaching. Tony specializes in helping business executives identify the barriers preventing them from reaching their goals so they can begin strategizing their success.
If you feel like you've plateaued, or you're in transition, you can develop the skills you need to move confidently into the next phase of your career with help from a much-lauded expert.
"It's a widespread misconception that professionals who reach the top levels of their careers are living an easy and stress-free life," says Selimi. "On the contrary, many face increased pressures at this level, especially if they've been fired, they've quit their jobs, or they're considering an important transition. TJS coaching packages provide the support and strategic guidance you need to clarify your future and then move forward successfully."
Tony's coaching packages are rooted in a blend of psychology, neuroscience, and leadership tenets to help you achieve rapid and lasting results. At each tier, participants learn to transcend self-doubt and self-limiting beliefs to develop a positive, success-oriented mindset. The trick is in finding the tier you need to overcome the challenges you're facing.
The Bronze package, for example, is designed to help individuals who experience mental, emotional, relationship and professional challenges. Furthermore, many individuals who are just entering their careers chose this option to overcome debilitating imposter syndrome and the fear of failure. Clients are provided with 21 hours of coaching which they can divide however they'd like.
If you're a more seasoned professional, the Silver tier is something to consider. Designed to help uncover and overcome long-held negative beliefs and buried wounds preventing you from moving forward, this tier, titled "Shifting Through Seasons," clears the way for you to visualize and then execute on your valued goals.
The Platinum tier takes place at a resort destination of your choosing for a relaxing, lush, and stress-free setting where Tony works side-by-side with you to clarify goals that are in line with your life's purpose. You'll come away refreshed, revitalized, and armed with the skills needed to positively impact the business world and the people around you for a personally, professionally, and financially rewarding future.
A recent Platinum participant says, "I was able to reach beyond my work as a doctor to develop more meaningful relationships with colleagues, friends, and family. I am now on the path I'd always envisioned and want to thank Tony for his wisdom and powerful inspiration."
Are you ready to conquer that next level in your career? Learn more at https://tonyselimi.com/services/coaching-packages