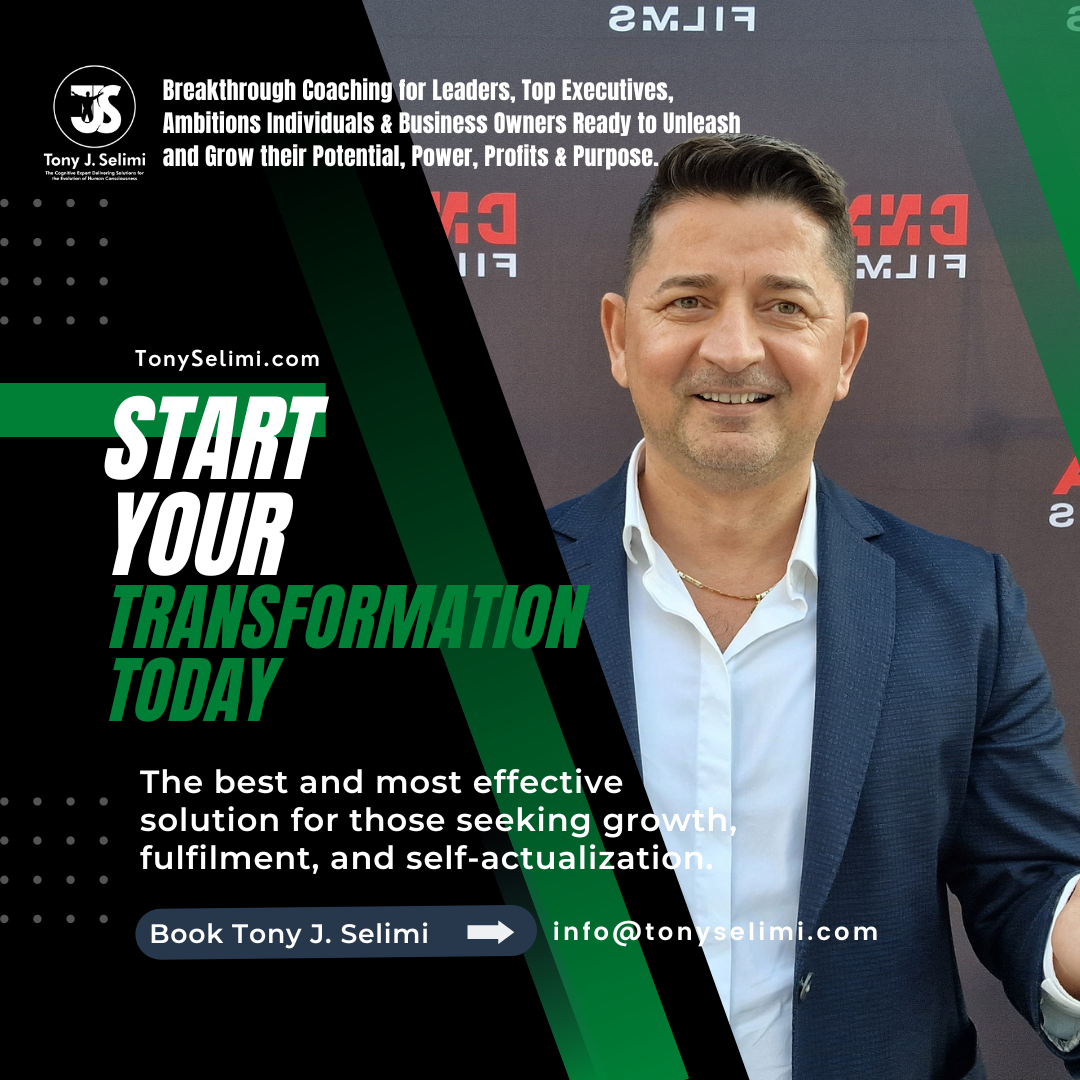 If you're a gifted executive who's risen quickly in the ranks, you might see yourself differently than those around you. While family, friends, and colleagues see an unstoppable individual bound for success after success, you might see someone who's tormented by the fear of failure and who dissects every mistake and ruminates over every decision.
But you've come this far, and that's no accident. Learn how to push past self-limiting fears and doubts so you can identify the things you want most in this world, and then put a plan into action that will transform your valued goals into a magnificent reality.
Tony J. Selimi, a globally recognized human behavior specialist, business coach, and cognitive expert, can show you how.
Tony's business growth, success, and productivity transformational coaching program is tailored to the specific stresses, setbacks, and challenges you encounter in your professional role and your personal life.
The annual Executive Coaching Packages come in Bronze, Silver, Gold, Diamond, and Platinum tiers, and are designed to help executives and entrepreneurs battling mental and physical burnout, and those facing fears and doubts about their next steps in life, maximize their potential and achieve their personal, professional, and financial goals.
Find out more and register for the tier designed to resolve your specific challenges, at https://tonyselimi.com/services/coaching-packages
Entrepreneurs, business leaders, and executives at all levels can reach a point in their careers - and in their lives - where anxiety, self-doubt, and burnout can stand in the way of growth. Tony Selimi's Executive Coaching Packages are built to help you make the personal, relationship, leadership, business, and wealth-building breakthroughs you seek.
Burnout or anxiety can lead to doubts about your future. This can be due to a combination of factors, including work pressures, feelings of isolation and disconnection, and a lack of clarity and purpose in your personal and professional life.
Tony's coaching packages help you develop strategies to overcome these obstacles. Each tier includes one-on-one coaching sessions with Tony, giving you access to tools and resources to support your personal growth and professional success.
The Bronze package is an introductory option for ambitious professionals who are just starting out in their businesses or careers. Clients gain a fresh understanding of their hierarchy of values and beliefs, helping them put aside the fear of failure so they can make more informed, confident decisions going forward.
The Gold package, ideal for those seeking advanced personalized coaching, is split into two programs. Clients can choose between a one-year program, or an intense coaching retreat at a resort destination.
Both Gold packages are rooted in Selimi's "Vital Planning for Elevated Living" program, which identifies leadership strengths and weaknesses and focuses on developing the skills and knowledge needed for career advancement, wealth building, and a more rewarding personal life.
The Platinum package is a premium option tailored to high-performing leaders, celebrities, and highly successful entrepreneurs looking for a trustworthy coach and a mentor who can give them objective advice and transformational insights that will help them make decisions that lead to a more significant impact in the world and upon those around them.
Tony J. Selimi is a respected international speaker, coach, and award-winning author who has worked with executives and entrepreneurs worldwide, helping them achieve their goals and unlock their full potential.
An executive who completed the Platinum tier says, "Having Tony's expertise, spirit, and wisdom on a two-week integrated coaching retreat in the most beautiful parts of Menorca made all the things I thought were difficult and impossible, possible. I am tremendously grateful and fortunate for the opportunity to work with Tony exclusively. There is a way to stop procrastinating once and for all and live the life you want. If you want to cut to the chase and will catapult your life, then Tony J. Selimi is the coach you want to have in your life or busienss."
Are you ready to crush your goals and take your life to the next level? Learn more at https://tonyselimi.com/services/coaching-packages