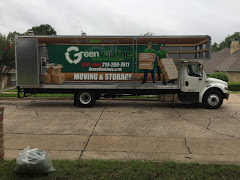 Moving is personal. Your stuff. Even the things you should have thrown away years ago but didn't because you can't because they're yours and that's all there is to say!
So you want movers who are well-trained and who can empathize. You don't want a cookie-cutter chain, you want a family! People who can understand that the giant teddy bear with a monocle and masking tape everywhere really is precious!
Green Van Lines is your answer - a family-run and operated, full-service, and eco-friendly relocation company, which also provides local services throughout Texas. A lot of people like you end up routing through moving brokers. Those are sales teams. You definitely don't want that!
You can see the difference at https://www.greenvanlines.com/green-van-lines-advantage
Green Van Lines, known for providing reliable, efficient, and affordable moving solutions, has updated its services to better meet eco-friendly imperatives and consumer demand. While the company operates vans using only bio-diesel-certified engines - for long-distance moving - it is building its fleet of hybrid vehicles for company use and on-site inspections.
The pandemic has witnessed a larger percentage of Americans relocating to be with family. One study showed that in 2021 almost a third of Americans cited a desire to be geographically closer to their families as a reason for moving, approximately the same number who moved for employment reasons. Those moving for personal reasons want their values to align with their providers': 70% prefer eco-friendly products and services.
Moving can be a complicated process, but Green Van Lines has been involved with thousands of residential and long-distance moves and has learned how to ensure that your relocation is successful. One key point they always remind customers: winter is a good time to move because the peak moving season is typically in the summer months.
You can go to https://www.fmcsa.dot.gov/protect-your-move/movers-vs-brokers for more details.
Preparation is critical, and the 24/7/365 company provides an updated checklist on its site detailing the issues you should take care of in advances - such as revising doctor, lawyer, and school contacts. You want efficient but affordable solutions, and the best time to reduce costs is before moving day.
Green Van Lines also facilitates corporate and military moves and maintains secure storage facilities nationwide for businesses that need to safeguard their inventory or individuals/families in transition.
Green Van Lines is a fully licensed and insured professional moving and storage company. The company's staff go through an extensive training process in which they learn to effectively and safely disassemble and reassemble a customer's furniture while packaging and protecting all fragile possessions - from antiques to televisions, mirrors to pianos. The company eliminates the use of paper waste and incorporates electronic communication wherever possible.
One customer commented: "Booking their service was smooth. They arrived on time and started the move. They were very careful while doing the work and very respectful towards us and our home. Really happy with their work. Thank you, guys."
Don't leave your teenage doodlings - or your mother's 19th-century vase - in the hands of people you can't trust. People who don't make the extra effort to make sure things are right.
Go to https://www.greenvanlines.com/avoid-hidden-charges-moving to see how you can avoid hidden charges and then look at all the customer reviews for yourself. Go Green!