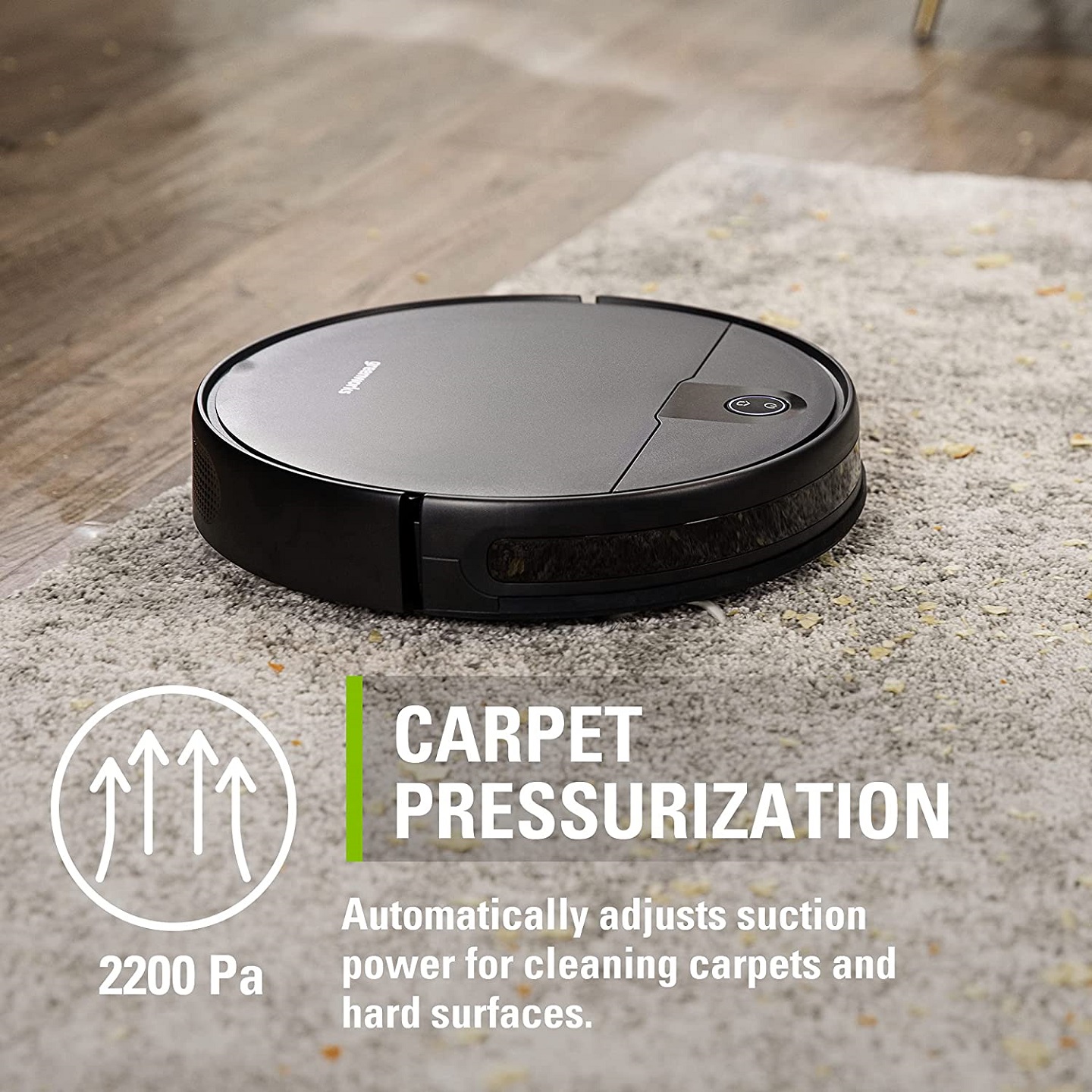 Have you got a sore back from all that vacuuming? Tired of cleaning up after your kids and pets? Get yourself the Greenworks GRV-1010 Robot Vacuum and save yourself the trouble!
With household hygiene uppermost in the minds of consumers in the wake of the global pandemic, the domestic electronics manufacturer announces the upcoming release of its new robotic cleaning device.
Greenworks Tools' latest announcement details the multi-featured GRV-1010 Robot Vacuum – a powerful, self-charging, automatic floor sweeper capable of cleaning all kinds of surfaces. The new device is part of the company's extensive range of consumer tools, gadgets, and household electronic accessories.
Join the robot cleaning revolution with Greenworks Tools. Coming soon to a floor near you. More details at https://greenworkstools.ca
The Robot Vacuum's launch gives you a robust, versatile, and cost-effective alternative to traditional handheld cleaners. The GRV-1010's unique design includes two side brushes and a middle rolling brush to ensure ample suction power. The device can handle pet hair, dirt, dust, and other common household debris with ease.
The vacuum utilizes intelligent path planning via its gyroscope navigation system. This enables the robot to plot out the most efficient route around your home by dividing the space into multiple zones. With an ultra-low profile of just 3.32 inches, the device can easily fit under sofas, beds, chairs, and other furniture.
The robot vacuum can be controlled via the Greenworks SMARTg app. You can start, pause, and schedule cleaning in a matter of seconds. The GRV-1010 also offers compatibility with your favorite voice-controlled smart home platforms such as Amazon Alexa and Google Assistant.
You also benefit from four vacuuming modes and four different suction settings. The vacuum ships with a charging dock, a power adaptor, filter combinations, brushes, and an operator's manual. You can get up to 90 minutes of cleaning time from one charge cycle and the product comes with a one-year warranty.
About Greenworks Tools
The company, headquartered in Mooresville, North Carolina, has been manufacturing high-end cordless and corded outdoor power equipment, consumer electronics, and horticultural tools since 2009.
A spokesperson says, "Intelligent obstacle avoiding and anti-drop sensors help this low profile vacuum cleaner easily clean under sofas, beds, and furniture where dirt and dust hide. Schedule your Greenworks robot vacuum remotely from anywhere with the user-friendly Greenworks SMARTg app."
With the upcoming launch of its robot vacuum cleaner, Greenworks Tools is turning its design and technological expertise in outdoor power equipment into smart indoor cleaning solutions for homeowners in the digital age. You can order the GRV-1010 through the company website.
Enjoy fast cleaning without lifting a finger. Find out more here: https://greenworkstools.ca
Keep your home sparkling this year with Greenworks GRV-1010 Robot Vacuum!