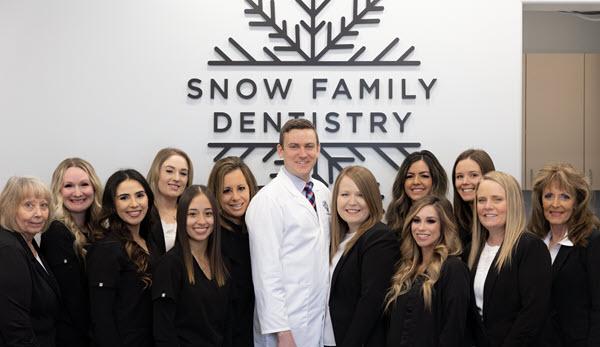 If you are in the Mesa area and are curious about Invisalign teeth straighteners but don't want to pay extra for the mail-order version, then you are in luck. Snow Family Dentistry has added this amazing treatment to their list of smile correction options, and following a consultation, you will be on your way to a straighter smile.
To find out more about this new treatment, visit https://www.snowfamilydentistry.com/services/cosmetic-dentistry/invisalign-mesa-az
Snow Family Dentistry has adopted Invisalign into their course of treatment as an alternative to metal braces which can be unnecessarily painful, especially in younger patients. The Invisalign system is gentler and more discreet, allowing you to feel more confident from the outset.
Studies have shown that the benefits of a straight smile extend beyond the purely aesthetic realm, although having a straight smile does improve confidence in one's appearance. Straight, well-aligned teeth have also been shown to improve digestive health and oral hygiene, and can be especially helpful in preventing chipped teeth.
Invisalign treatments use a clear, custom-fitted aligner which fits over the teeth and will be adjusted every 1-2 weeks. The removable orthodontic device will gently but firmly push your teeth into alignment and create an ideal smile as determined by the professional in charge of treatment.
Doctor Snow has personally vetted Invisalign as his removable aligner of choice, and will meet with you one-on-one to discuss the benefits and risks of the treatment. Overall, he has approved the treatment as what he considers to be the gold standard in dental health, and the best overall service of its kind.
If you find yourself feeling self-conscious about your crooked smile, it may be time to try corrective options. Let Doctor Snow help you get the teeth you have always wanted – sign up for a consultation today.
On top of this newly offered service, the practice also provides a wide range of preventative and restorative care to their patients in the Mesa area. Their professional friendly staff can perform oral cancer and gum disease screenings in order to catch and treat serious problems before they cause permanent damage.
One satisfied patient said, "I was just there for a cleaning and check-up but my experience was great. The young lady that cleaned my teeth was very friendly and thorough. If you want a great dental experience look no further."
To schedule a consultation, visit https://www.yahoo.com/now/invisalign-mesa-az-updated-snow-074500855.html