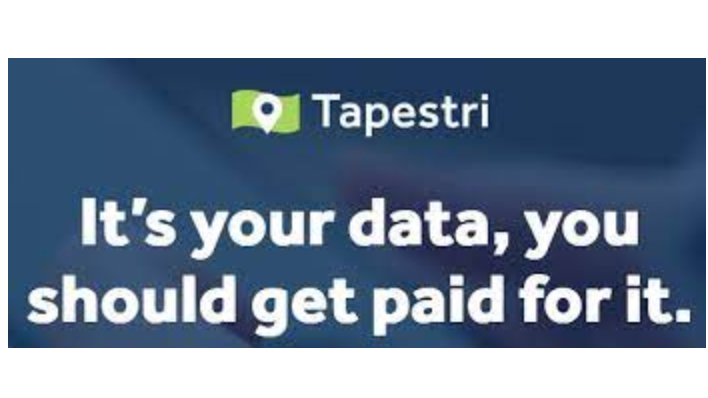 Want fair Data Marketing and Payment for Anonymous Location Data for all?
Get the Tapestri app.
The idea for creating a payment application for your anonymous location data. service came about because transactions are already happening through your phone with your data that you are not aware of nor being paid or compensated. With the Tapestri app you will now be paid for your anonymous location data.
Tapestri Inc. got it's start when Founder Walter Harrison noticed a growing trend of companies taking people's data and reselling it without compensating them. After considering the concept for several years, Tapestri was officially founded in 2021 by data pro and serial entrepreneur Walter Harrison. The issue was simple: consumers unknowingly give away data but are excluded from the financial benefits reaped by a billion-dollar+ industry that a few large tech companies dominate. What's more, as Harrison watched industry and government measures begin to affect the collection and use of data, he decided the timing was right to launch an easy-to-use app that pays consumers for their data. As the Tapestri vision began to take shape, a founding team of data veterans assembled to design, build, and launch the app and create a fully consented consumer data marketplace where everyone wins. Today, the app has been live for over a year, downloaded by tens of thousands of everyday consumers ("Tapsters"), and the company has paid out hundreds of thousands of dollars for data. And this is only the beginning. New features such as surveys, contests, cash-back shopping, and a media engagement solution have been added to enhance engagement and, more importantly, create even more opportunities for Tapsters to generate additional income. Try the Tapestri app today; after all, it's your data. You should get paid for it!
Tapestri Inc.'s Payment for your anonymous location data. service can be accessed free by visiting https://tapestri.io/fretzie