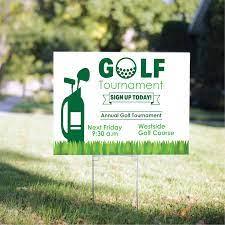 How can you expect to get crucial votes without letting the people know about your political party's campaign? You can't be everywhere at once, though, and that's where Big Daddy's Signs comes in.
Its signage items come in aid of political groups and leaders across the nation, strengthening your election efforts. You can use these signs to bring much-needed attention to your policies and slogans in local, regional, or wider-area campaigns, with fixed-spot and mobile options included as part of Big Daddy's Signs' online inventory.
Click https://bigdaddyssigns.com/weekly-specials/ now!
You can choose from custom lawn and yard signs as well as vehicle magnets and vinyl banners, each suitable for message promotion and brand exposure. Nationwide business owners continue to use Big Daddy's Signs' products to generate interest in their services - and the supplier now offers you the same tools for political purposes.
To support you with your campaign, Big Daddy's Signs provides a selection of signage packages that showcase a variety of its advertising products. These feature single-color, double-sided signs alongside H stands in quantities ranging from 100 all the way to 1000, which you can use for marketing in small and larger communities alike.
"It is that time of year once again to get your political yard signs ready," says a company representative. "Big Daddy's Signs offers digitally-printed corrugated yard or lawn signs for election campaigns and more."
Each of its four sign packages is sized according to your unique distribution needs. The smallest includes a pair of magnetized car door signs as well as a single vinyl banner, while the biggest package quadruples these advertising accessories in quantity. Which do you need? It's all up to you.
Big Daddy's Signs points to the significant visual appeal that well-designed creative signs can have for onlookers. Attracting more attention leads to more engagement, and an increased likelihood of responding to calls for action, more visits to advertised businesses, and so on. You can also customize sign packages with additional colors at affordable rates for maximum style.
One customer said of Big Daddy's Signs: "This is the best place for political signs. The quality, turn-around time, price and professionalism of the staff are unsurpassed. Our signs stand head and shoulders above the ones used by other candidates."
Now that March is here, March Madness has also begun! Big Daddy's Signs offers you seasonal discounts for the best deals around this spring!
Get your slogan where it belongs - out and about!
Wherever you are throughout the United States, head on over to https://bigdaddyssigns.com/political-specials/ to learn more about Big Daddy's Signs and its packages!