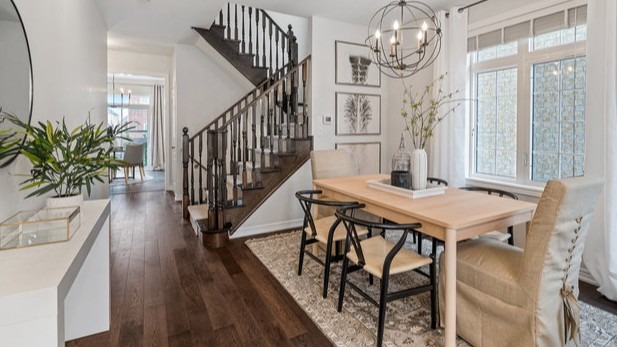 Looking for the perfect Hamilton home? With so many options available, finding a property that meets all your needs as well as your investment goals can be daunting.
This is where real estate expert Mary Taylor steps in.
With in-depth knowledge of the local market and a commitment to providing you with the personalized service you deserve, Mary helps you navigate available opportunities like a pro so you can find the home of your dreams like a boss.
Want to know what's available in Waterdown? How about an impressive 4-bedroom, 2-1/2 bath family home with a fully enclosed backyard for less than 1.3?
This gorgeous home offers you a contemporary kitchen with quartz countertops, stainless-steel appliances, and double entry doors that open onto a formal dining room - prepare to fall in love!
Take a look now at https://marytaylor.ca/property-listing/143-humphrey-street-waterdown
As an experienced and well-regarded realtor, Mary Taylor's passion for helping clients achieve their real estate dreams in alignment with their budgets has never waned. And she's here to do the same for you.
While Canadian home prices have declined significantly since 2022, the Hamilton region can be complex. 2022 pricing has given way to more affordable detached family home purchase opportunities but you need to know which homes will deliver on what matters most to you and your family.
Mary Taylor says that by knowing where to look and what to look out for, you can find a family home that meets both your budget and your lifestyle goals.
"I'm excited about this dream home in Waterdown ready for a family of four looking for a stellar property," says Mary. "It's the perfect investment choice."
A firm believer in building strong relationships with clients, Mary takes the time needed to mindfully clarify her clients' goals and specific priorities. Her marketing approach guides you through your buying or selling process in a way that makes you feel at ease, supported, and ensures your financial goals are respected.
By leveraging a variety of marketing channels, Mary ensures sellers achieve maximum exposure. She's also careful to filter out listings that don't match a buyer's criteria to ensure clients view homes that are within their price range and geographic preferences.
Economic indicators within the Hamilton region point to favourable real estate investment opportunities across the board. As a growing market, Hamilton is an attractive option for home buyers looking to rent their properties out, and a much more affordable option compared to Toronto for first-time buyers and families looking for long-term investments where they can lay down some roots.
A recent client says, "Mary helped me both sell my home and purchase a new one when I was going through a life-changing event. It was clear from day one that she had my best interests at heart."
Are you ready to partner with Hamilton's best? Learn more about Mary at https://marytaylor.ca