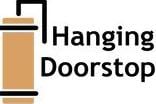 Have you ever wanted to keep a door open while you move back and forth between rooms? If you have small children, this can become a challenge – they might trip over it or your dog may even bite it! Traditional door wedges don't work for this reason, but you might have thought this was the only way of preventing a door to close.
Now, there's a better and SAFER way!
Hanging Doorstop offers easy-to-hang door stoppers for your home. The doorsteps are also suitable for use in hotels, motels, hospitals, and other buildings seeing high traffic as they allow both staff and guests/patients to avoid making contact with high-touch surfaces such as door handles.
Get yours today at https://hangingdoorstop.com
The Hanging Doorstop fits easily into the gap between the door and its hinges when it is open. The stopper prevents the door from closing, allowing you to go in and out of a room without having to constantly use the doorknob. To help you learn how it works, Tony Roma, the founder of the device, has released a video explaining how to use his product and why it is much safer than conventional door wedges.
Unlike widely used door floor wedges, the Hanging Doorstop is mounted on the upper hinges of a door, which prevents your children from accidentally removing it or tripping over it. The device has a simple but innovative design that can be also useful for professional movers or other workers such as plumbers, carpenters, and decorators.
Want something bigger? No problem! Recently, Roma introduced the Big Brother design which has a wider frame. This allows you to keep your doors open at their maximum width. This feature is especially useful if you are bringing heavier furniture or moving out boxes.
And the best part? Because you're hanging your doorstop quite high, there's no chance for children to accidentally remove it! You can move around with no worry, confident that the door won't suddenly close!
Currently, Hanging Doorstep offers three designs: Big Brother, standard, and Little Brother. These items differ in how wide they keep a door open. Regardless, all designs come with a reflective sticker on the side to help you see your Hanging Doorstop even during the night or when the lights are off.
Roma says, "If you've ever had to carry groceries into your home, the need to hold the door open when moving large items like furniture or appliances? Have you ever wanted to prop a door open at your place of business or at home in the warm weather? Have you been annoyed because a door in your home keeps closing or banging just because a window is open? Then Hanging Doorstop is for you."
Go to https://hangingdoorstop.com/cart so you can learn more.