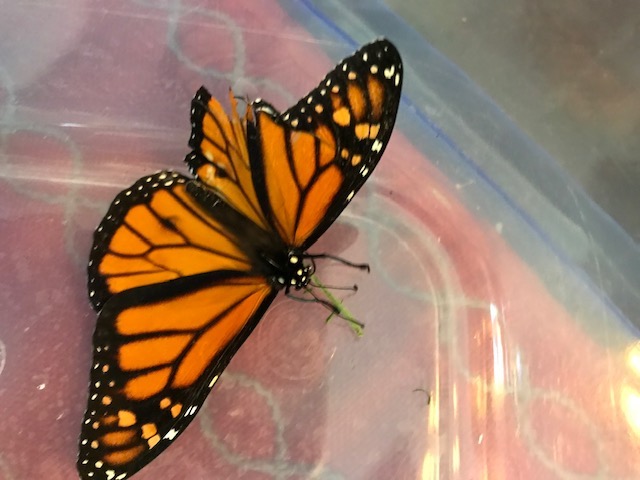 Butterflies are one of North Carolina's most beautiful creatures, but they are also one of their most at-risk. That's why Jeanne Megel wants to help you raise and release them at home.
Her informative new book, which is called 'Raise Healthy Monarchs At Home', is being targeted to home gardeners in Greensboro as North Carolina is a key location in the beautiful species' annual migration across North America. As the home of The Cole Family Monarch Conservation Center and Butterfly House at the Greensboro Science Center, Megel also believes that the city's environmentally conscious and active citizens like yourself will make for a receptive audience for her insights and strategies.
Go to https://magicalmonarchs.com to find out more.
The release of the book coincides with North Carolina's recent affirmation of its commitment to address climate change and the destruction of natural wilderness, with Governor Roy Cooper outlining an executive order to ensure that the state becomes a cleaner and greener one. However, despite these very positive steps, Megel believes that there is still more that you can do to improve the health and quality of your local environment, and raising monarch butterflies is one of them.
Like bees, monarch butterflies are a vital pollinator, and are the primary pollinator of America's great array of beautiful wildflowers. Sadly, however, like bees, their population is also in peril, owing to factors like land clearing and pollution.
While Megel praises the work of The Cole Family Monarch Conservation Center, she is here to tell you that it ought to just be the starting point for a city and county-wide conservation effort.
As such, the highly qualified biologist and experienced conservationist has distilled almost ten years' worth of experience into an easy-to-follow, clearly structured and illustration and photograph-supported guide to raising monarch butterflies at your home.
In 'Raise Healthy Monarchs At Home', Megel teaches you all the key steps in the process of raising and releasing the butterflies. It also includes information on what to plant in your garden to attract and nurture pollinating insects like the monarch, how to select a food source for your butterflies, all the equipment that is needed and safety practices to follow.
Jeanne Megel has worked extensively throughout North Carolina as an advocate for the monarch butterfly and now raises around 500 healthy butterflies each season.
A spokesperson for the author said, "Not everyone can help save a coral reef. But everyone can help save the monarch butterfly and contribute to the health of our planet."
If you want to make Greensboro a more beautiful and thriving place, one small step you can take is to raise these incredible butterflies in your garden.
Visit https://tinyurl.com/mup9rxn8 to buy your copy of 'Raise Healthy Monarchs At Home' today.