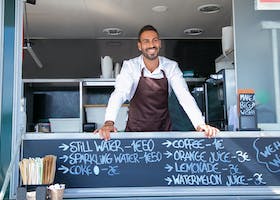 Drive more business through your door with an interactive and engaging restaurant-themed website that will make you the go-to for foodies everywhere.
The result-oriented web design service from Umbrella Local employs restaurant themes that enhance your brand visuals to boost online credibility. With the help of its local marketing experts in major cities, the agency helps you build a responsive website on popular platforms such as WordPress, Wix, and Mono Solutions.
Go to https://www.mediaabsolutely.online for more details! Or call us at 844-966-4470
Based on its 25 years of experience, the digital marketing and accessibility agency provides you with a holistic website design solution. Using the responsive website design service, you can attract new customers, increase online orders, and boost overall revenue.
According to a survey, about 77% of Americans will visit a restaurant's website before dining in or taking food out, and 30% of diners are turned off by a website that looks outdated or is difficult to read. Understanding this, Umbrella Local aims to provide effective restaurant-themed websites that suit your unique branding and needs.
The digital marketing experts guide you through every stage of the design process to ensure the website resonates with your brand. Its web design team helps you to integrate an online ordering system, create a menu page, or set up an event calendar while emphasizing brand visuals for a professional look.
Umbrella Local offers a complimentary 30-minute consultation for you to determine what services you require to achieve your desired business goals. In addition to the restaurant-themed website, Umbrella Local also helps you with Google advertising and a review generation solution to boost the credibility of your business on the internet.
About Umbrella Local
Based in New York, Umbrella Local provides digital marketing services through local marketing experts in almost every state and major city in the US. As a digital marketing and accessibility agency with over 25 years of experience in the industry, Umbrella Local helps you to boost your online presence and reach your goals. Its team of experts specializes in website design, search engine optimization, social media marketing, and more.
A satisfied client said: "Jim and Charles did a wonderful job on my website. They set up my site exactly the way I wanted. When I had a problem or needed something changed, they got right on it for me. I will be calling again for any of my future marketing needs."
Finally ready to take your restaurant's online presence to the next level? Umbrella Local's restaurant-themed website design service is here to help you showcase your menu, atmosphere and unique selling points to potential customers.
Visit https://www.mediaabsolutely.online/-resturant-website-design to get started.