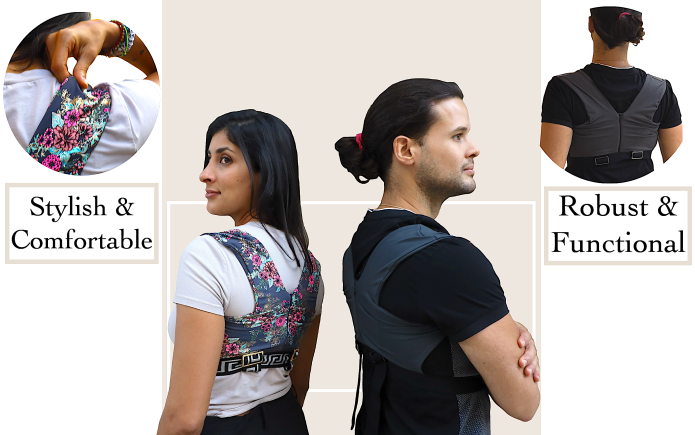 Does wearing your posture trainer make you feel like you're part of the Ninja Turtles? You definitely can't wear them under your clothes and even on their own, they're sweaty, clumsy, bulky, and PAINFUL! What should help you correct your alignment instead just makes you feel like you're training to be a cartoon character.
We got you.
Headed by a biomedical engineer, we at CoreXO enter the market with one goal in mind: to promote proper alignment with comfortable posture correctors that actually work. Unlike other posture trainers, our product is inspired by shapewear and yoga materials so that its lightweight material won't hurt the armpit or shoulders.
Grab your posture corrector today at https://igg.me/at/corexo  
The new stylish posture correctors can be worn over or under clothes and can comfortably accommodate until 4XL or until size 30. Many of today's modern posture correctors are uncomfortable, especially around the armpits. Further, they are bulky and are too heavy to wear under clothes.
Our corrector helps strengthen your posture in three ways. Its lightweight but strong material instantly aligns the spine and is gentle on the armpits and shoulders. Second, the item features adjustable shoulder straps that relieve tension on the spine and neck. Lastly, its large back zipper engages lats and cups back fat.
The comfortable posture trainer can be worn under clothes. Its patent-pending design is made with soft yoga/compression pants-like material. This means that it is stretchy and safe without sacrificing function. 
You can choose between several packages and sizes from XS to 4XL or from sizes 0 to 30. A few days after the campaign, a separate email will be sent so that you can choose your styles and make changes to your size, if needed.
The stylish posture correctors come in 7 different designs. These range from basic colors to more elegant designs that can be worn over clothes.
We only ship nationwide and to some parts of Canada.
As seen on our website, "When your body gets tired of any level, or if you need extra support at the end of a long day, your CoreXO adapts with you. With CoreXO's beautiful styles and adaptive design, you can train at the office, the gym, or out in a social event to continue enjoying great posture everywhere you go!"
Wear better posture trainers for a better life! Go to https://igg.me/at/corexo so you can learn more.