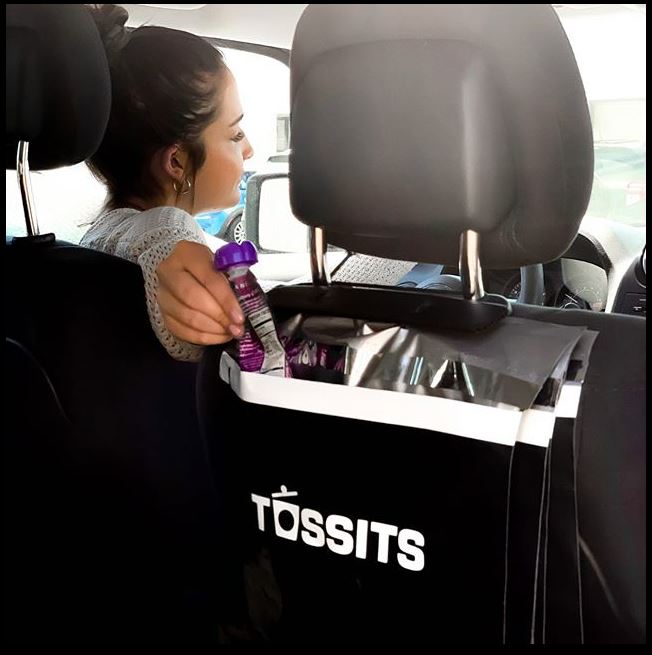 As the weather grows warmer, most parents will be familiar with the sour stench that gathers in a car that's full of trash. Though not a pleasant scent, who has the time to clear out the trash every day, or kids that actually listen when you tell them not to dump it on the floor? Now you don't need to worry about either of those things, with sealable smell-proof trash bags from Tossits!
The trash bags have been updated according to your feedback and reviews, with updates made to their product to reflect the needs of consumers and make the Tossits range as convenient as possible.
Go to https://tossits.com/shop for more information.
Tossits' updates are applicable to all products from the company, including multipacks with a larger, sturdier full-width header board.
If you regularly drive your kids around, take them to sports practice, or carpool, then you'll be familiar with just how quickly your car can fill up with trash and debris. Whether your kids are the culprits or your adult passengers are making the mess, setting aside time each week to clean out your car is yet another chore on the ever-growing parent to-do list. Tossits offer an easier way to take control and keep things tidy, helping you to be a little more environmentally responsible along the way.
Manufactured using high-quality, sturdy post-industrial recycled materials, Tossits car trash bags are leak-proof and smell-proof once sealed, and sit comfortably on the back of almost any car seat thanks to the new and improved longer bungee cord. A discreet way to contain your trash in one place, the bags are great for outside of the car too, with many customers praising their convenience for outdoor events and barbecues.
Once full, the perforated edge on the bag can be torn away from the header board, sealed and disposed of responsibly - which is a far better alternative than the "throw it out of the window" solution many of us are guilty of opting for.
Multipacks of Tossits are available in packs of 7, 21 or 35, and can be purchased directly from the company website, or through Amazon in the USA. Each Tossits bag measures 15 by 12 inches in size and includes a strong cardboard header that doesn't bend or break and is now customizable for businesses. The 65 square inch space is great for if you're a company in the automotive industry or beyond to emblazon with your logo or marketing and can be digitally printed in full color.
Since most customers keep a 5-pack of Tossits in their car for up to 12 months at a time, one purchase equates to a year's worth of advertising.
Tossits is the eco-conscious car trash bag company you can trust for bags that keep your car fresh, clean, and free from sticky wrappers and mess!
Ready to learn more? Visit https://amzn.to/3g9Jz1j to take a look.