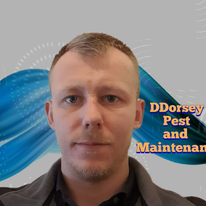 Whether you're in Syston, Loughborough, Leicester, or a surrounding district, this local pest control expert is just a phone call away. Not only can they take care of unwanted guests, they use their property maintenance expertise to make sure your home or business is not an appealing destination for rodents in the future.
Go to https://www.facebook.com/DDorseypestcontrol for more information.
The professional services from DDorsey Pest and Maintenance come in response to increasing demand for rodent control solutions across the greater Leicester region. As a local provider, the firm aims to provide you with a friendly, responsive and affordable solution whatever your needs are.
A 2020 report from insurance provider Aviva showed that home rodent infestations had risen by 120% when compared to the previous year. While it was speculated that decreased food sources during lockdown may have been to blame, a 2022 report from Rentokil stated that incidents this year have again increased. In recent months, commercial rather than residential properties have been experiencing more problems.
Of course, the first thing you need to do is get the furry critters out of your property. However, DDorsey Pest and Maintenance also places additional emphasis on preventive actions. Experts suggest that rodents may have become more confident entering our towns during lockdowns, and the firm now surveys your property to ensure that food sources and points of entry are eliminated.
Given DDorsey's specialisation in both pest control and property maintenance, the company is better placed than most to manage the conditions in and around your property. Technicians can also work with you to develop effective pest prevention strategies.
About DDorsey Pest and Maintenance
Along with rodents, DDorsey Pest and Maintenance offers pest control services for insect infestations in the region, with a particular focus on wasp removals and preventions. The firm's property maintenance capabilities extend to external cleaning of gutters, fascias, windows, patios, and conservatories, and waste clearance is also available.
One local client recently stated: "DDorsey Pest and Maintenance came recommended. I contacted them by email and they responded super quick. The technician turned up at the agreed time, and during the visit he was helpful, attentive, thorough, and very professional. I couldn't have asked for more. I would definitely recommend this local provider."
For a more complete pest control and prevention solution, call the experts at DDorsey Pest and Maintenance.
Speak to the team today. Check out https://www.facebook.com/DDorseypestcontrol so you can learn more.