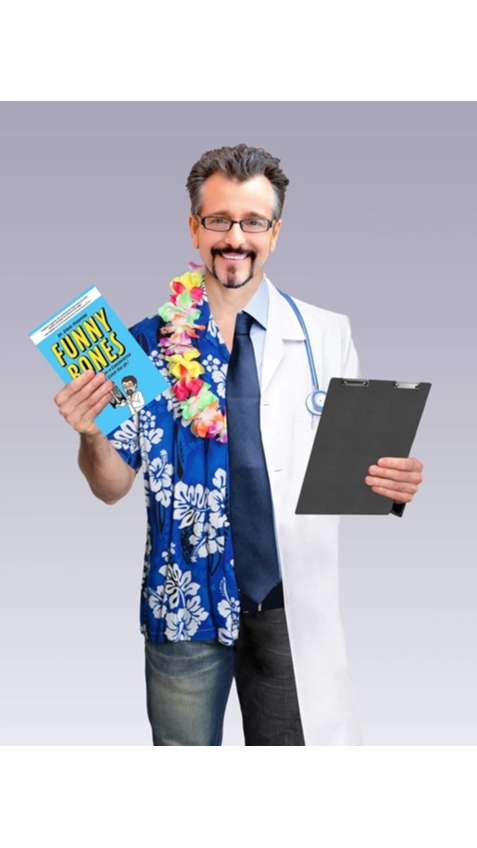 Did you know that this new book from Dr. David Friedman is likely to be banned in Hawaii?
It's a gut-busting, laugh-out-loud-until-your-sides are-sore kind of book, and that's not allowed there.
In fact, in Hawaii you're not allowed to laugh loudly at all, the law demands you limit your humor to a low Ha.
A low Ha - I crack myself up - but not nearly as much as Dr. Friedman, he's a professional.
While going to the doctor is rarely a laughing matter, Dr. David Friedman takes a different approach at his own practice, and in his new book, Funny Bones. The book aims to show that laughter truly is the best medicine, and is packed with hilarious stories, anecdotes, jokes, and other humorous true tidbits from his thirty years in practice.
Don't take my word for it. Visit https://funnybonesbook.com to read some excerpts, and glimpse at the huge list of celebrity endorsements for his new work.
Throughout his career, Dr. Friedman has worked with scores of celebrity patients and is known in the industry for using laughter as part of his standard treatment. His newest book has been curated to highlight the lighter side of his career, while also providing readers with the health benefits of frequent laughter.
Funny Bones follows the success of Dr. Friedman's international award-winning, and national best-selling work, "Food Sanity - How to Eat in a World of Fads and Fiction." For his last book, Dr. Friedman spent 15 years interviewing food experts from around the world, before creating his own common-sense approach to eating a healthy diet.
While Dr. Friedman is known for discussing serious topics in books, in his clinic, and on the radio, a spokesperson explained, "In his book Funny Bones, Dr. Friedman gets to take off his tie, step away from all the nerdy scientific talk, and focus on just one part of the human anatomy: the funny bone!"
While the stories, jokes, and puns collected in the new book come from three decades of practice as a chiropractic neurologist, it was only recently that Dr. Friedman put his collected humor into a book. According to recent research in the Journal of Neuroscience, laughter releases endorphins, a natural chemical in human brains that helps to relieve pain, reduce stress, and provide an overall sense of well-being. So in a way, this is Dr. Friedman's attempt to bring better health, and better laughs, to people around the world.
The new book has already received praise from celebrities, health experts, and celebrity health experts around the world. Jack Canfield, the author of the ever-popular and best-selling series, Chicken Soup for the Soul, said, "Everyone needs more laughter. It truly is good for the soul! And this book made me smile, chuckle, and laugh out loud on every page. I promise it will do the same for you."
You'll do more than just guarantee yourself some laughs with this new book, as all proceeds go to the Laughter Saves Lives Foundation, a non-profit that helps first responders who have suffered injury or illness.
Picking up Dr. Friedman's new book is like having your funny bone reset without having to see an orthopedic for a cast.
You're guaranteed to be in stitches for weeks!
Visit https://funnybonesbook.com to get a preview of the new book, or to see what celebrities, medical professionals, and authors from around the world have to say about it.