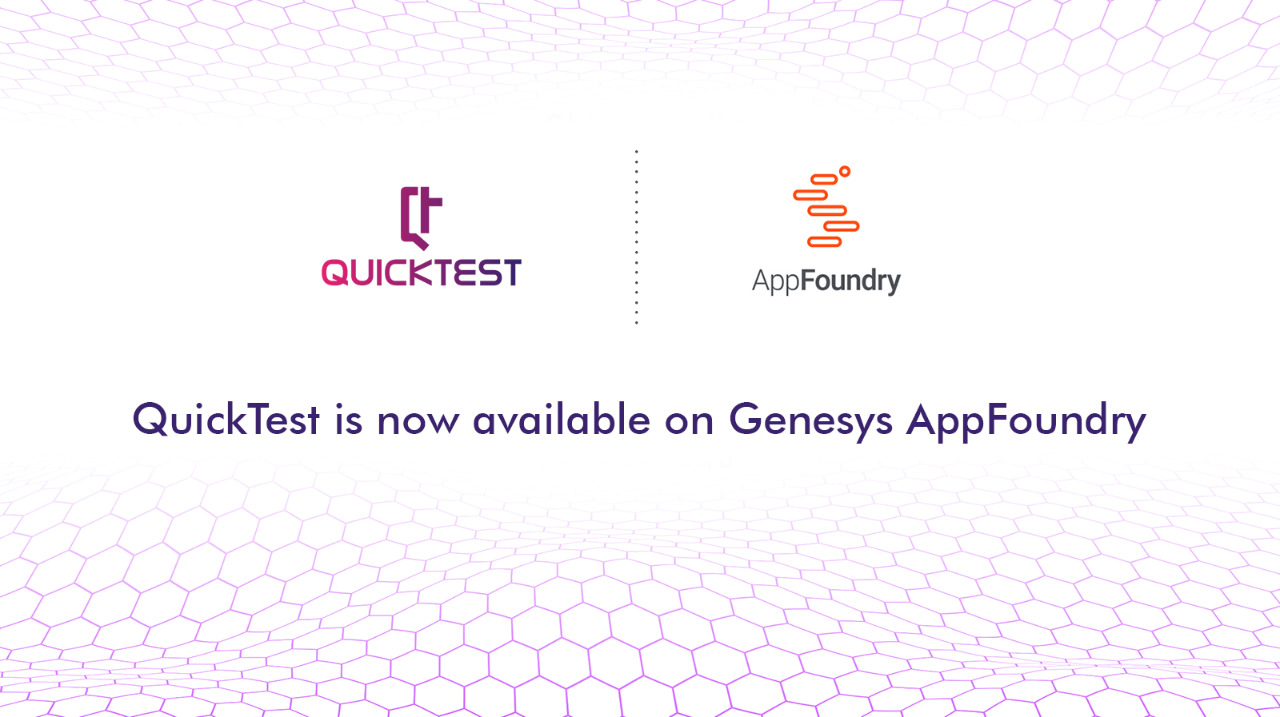 The new Integration of QuickTest (Automated Contact Centre Testing CX Platform) with Genesys Cloud and its Embedded client availability within Genesys Cloud app, offers several innovative features, such as platform loading for simulating real-time scenarios, automated testing for developers and scheduled testing for quality control of the customer experience. Genesys Cloud users can now subscribe to QuickTest within their existing app Interface and do not require a separate registration, loginsor billing. Genesys AppFoundry, the industry's largest dedicated marketplace focused on customer experience solutions, allows Genesys customers from all market segments to discover and rapidly deploy a broad range of solutions that make it easier to interact with consumers, engage employees and optimise their workforce.
More details are available at https://appfoundry.genesys.com/filter/genesyscloud/listing/5050177f-90a2-413e-814d-f44886dc5dc8 and https://quicktest.ai,
The announcement of QuickTest's availability within the Genesys Cloud platform aims to increase organisations' efficiency and productivity by providing automated testing that operates with speed and robustness.
QuickTest can load the platform for all channels and stress it, so users know if the platform is performing according to their needs. The app helps to identify breakpoints and bottlenecks in Contact Centre flows, allowing users to understand how much workload the system can handle under extreme conditions. The platform can be loaded upon deployment and after major upgrades.​
QuickTest's service assurance feature allows organisations to schedule tests to run on a set frequency or a specific date/time. The test is automatically performed and report/notification is sent to the user when user defined thresholds are met. It helps to identify if a service is available or if there are issues.
The automated testing feature helps developers to test their flows while they are developing and quickly identify issues with changes. QuickTest retains the complete history of tests, making it easy to locate past tests. The same test can be run against lab, pre-prod and production environments, which increases confidence as changes are migrated.
Sonal Garg founded QuickTest in response to the rapid evolution of the customer care industry and the constant growth of new channels like WhatsApp, Facebook and Apple Business Chat. The contact centre market has been expanding like never before in number of channels, customer behaviour, applications and integrations. With QuickTest, business owners are assured their contact centres are delivering top-quality service.
To learn more, please visit https://quicktest.ai, https://youtu.be/fHY07wfpKCY