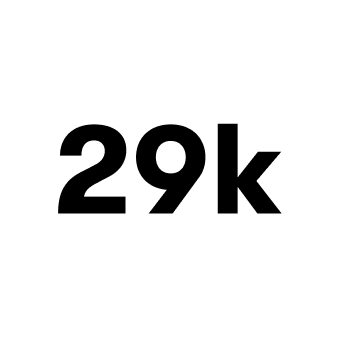 Are you finding time in your busy schedule for some self-care? Enjoy bite-sized therapeutic exercises that help you face life's challenges with the 29k app!
The app offers you an amazing collection of daily exercises, meditation guides, and short immersive courses, providing a comprehensive suite of reflective tools and community support features. 29k offers short sessions that you can find time for even if you're having a hectic day.
Invest a little more time in yourself. Gain a new kind of self-awareness with the 29k app. More details at https://29k.org/inner-development
The latest version of the app can be downloaded from both the App Store and Google Play and works seamlessly on both Apple and Android devices. 29k can help you find some inner peace and the strength to overcome the stresses and challenges of modern life.
Data from the National Alliance on Mental Illness suggests that around 1 in 5 Americans struggles with their mental health on a daily basis. With the cost of living on the rise and millions of people still dealing with the economic fallout of the global pandemic, taking time to reflect and schedule self-care is crucial. The 29k app lets you dictate when and how you engage in your daily practice of inner development.
Exercises available in the app include relationship maps, a self-care cup, puzzles to help redefine how you express and respond to vulnerability, and an acceptance slider game that encourages intentionality. 29k already has over 126,000 members making daily use of these tools. Join them today!
You can access a series of tests that help you develop a stronger sense of self-awareness. These cover topics such as self-compassion, stress, and sleep management. All courses and exercises can be taken individually or as part of a group.
Courses currently available include Acting With Purpose led by former Deputy-Secretary General of the UN Jan Eliasson and Purposeful Leadership with Professor Frank W. Bond and Dr. Jonathan R. Dowling.
All of the material within 29k is based on evidence-based interventions from therapeutic modalities such as Cognitive Behavioral Therapy (CBT) and Acceptance & Commitment Therapy (ACT). These approaches encourage analysis and understanding of current situations, past experiences, and inner development via exercises grounded in contextual behavioral science.
A spokesperson says, "We are an open-source, co-created non-profit making psychological tools for mental health, inner development, and civic leadership, accessible, free, and meaningful to millions."
Brighten your day with 29k!
For more info, go to https://29k.org/inner-development