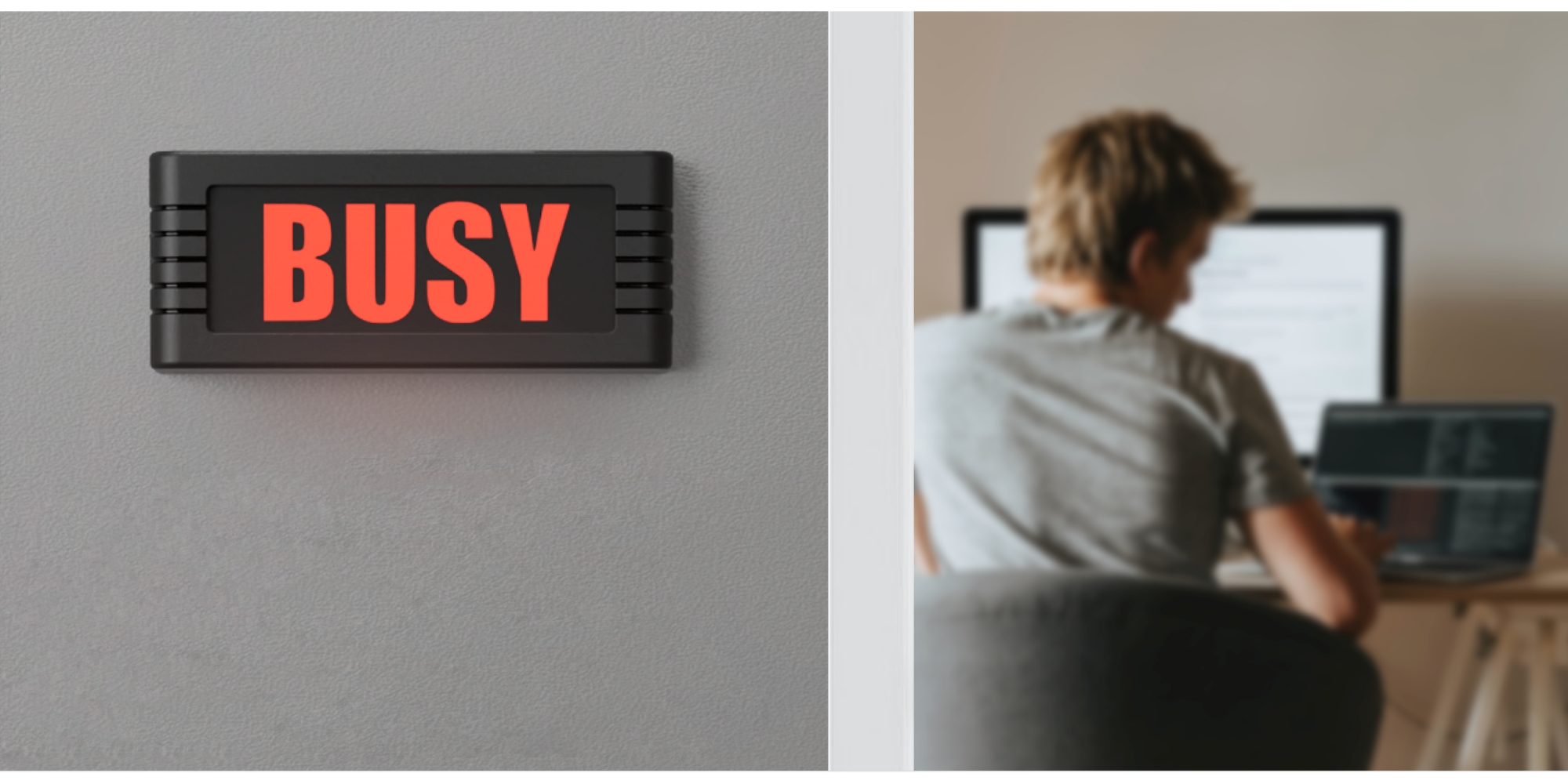 Have you ever had your child scream, "Mom! I need to go potty," while you're in a Zoom meeting? I have. While my co-workers are gracious enough to understand that incidents like this are not uncommon in work-from-home situations, I much rather maintain my credibility or at least the illusion of my authority while at work. That is why getting myself a BusyBox is such a big help. It keeps my kids from barging into my meetings and reminds them that there is a room full of virtual people in my home office who do not need it hear about their bathroom activities.
BusyBox provides you with rechargeable, easy-to-install signs controlled through an app interface. The products offer numerous interchangeable slides that display words or messages, allowing uninterrupted work or study flow for you.
Go to https://www.busyboxsign.com to find out more!
These signs have been developed to provide people like you who work or study from home with interactive anti-interruption solutions. A spokesperson from BusyBox says, "Whether you're working remotely, jumping on video calls, streaming videos, recording a podcast, studying for finals, or just in need of some solo time, BusyBox gets you the uninterrupted space you need."
BusyBox started business at the height of the pandemic when most professionals transitioned from office to work-from-home setups. The signs proved effective as they reduced disturbances such as family members suddenly barging into home offices while Zoom meetings were underway.
The signs boast a simple and sleek design with no unsightly wires. At only about 8 x 4 inches in size, you can easily install it on your door or wall. Plus, the signs come in different colors and styles to match the look of your workspace.
The product comes with choices of slides that display words like busy, on call, on air, meeting, do not disturb, sleeping, working, gaming, and more. It also offers a long battery life with 120 hours of illumination for every charge.
You may control the sign manually or through the BusyBox App, which provides you with easy access and control of your sign(s) with just a few taps. Through the app, you can turn your sign on/off, and change the words' colors or illumination effects.
You can further automate your sign by linking it to your Google calendar. This feature offers convenient hands-free controls where the messages change according to your schedule. Additionally, the sign responds to voice commands through virtual assistants such as Siri, Alexa, and Google Assistant.
A satisfied BusyBox user said, "It's perfect for work-at-home situations. It's a great way for everyone to know when someone is occupied, in a zoom meeting, or on an important call. Works great for our multiple family member work-from-home situation."
Turn your home office into a real professional space today! Order your BusyBox now!
Visit https://www.busyboxsign.com for more details!