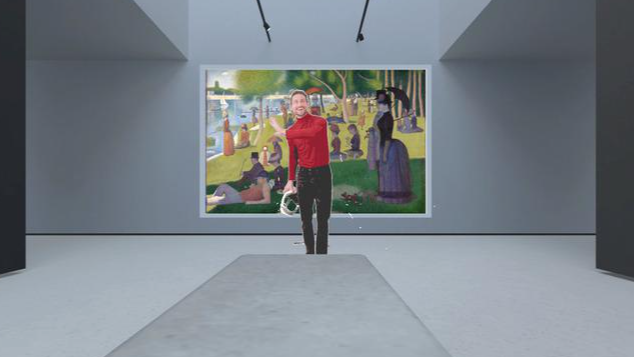 Art is evolving, as it always has.
Just as the work of the old masters gave way to impressionism, and classical theater opened the door for Tennessee Williams and William Inge, we now see a new art form emerging. Our rapidly evolving tech landscape has paved the way for a new era of performance, one which actor and innovator Brendan Bradley has been keen to take advantage of.
When Bradley gave away a virtual venue during the pandemic, he never imagined how fast a community would grow to advance the medium. After supporting and monetizing almost 50 live showcases using web-based virtual reality from all over the world, his 21-Day OnBoardXR Challenge will now help you bring your own art into the Metaverse. The best part? It's totally free for a limited time.
To find out how you can participate, visit https://brendanAbradley.com/gift
The program is open to a limited group of artists throughout the Fall, who during this window will be able to access the OnBoardXR community and tools.
As part of joining OnBoardXR, participants receive a customizable virtual venue that can be staged to host meetups and events within minutes.
Bradley developed this web-based 3D events company during the height of the pandemic to give stage performers the opportunity to host a live audience from home. During a talk at the Augmented World Expo this Summer, Brendan Bradley showcased the last year of presenting almost 50 live shows, entirely within attendees' web browser.
Bradley has continued to produce and star in live immersive theater at the intersection of emerging technology and traditional stage, sharing glimpses of recent performances at The Venice Film Festival and SXSW on his social media and premiering his latest film and his album release party in the Metaverse. Through the 21-Day Challenge program, he wishes to impart what he has learned about this new hybrid art form onto a new generation of artists.
OnBoardXR was most recently used in partnership with several artists to build new experiences for Active Replica's Constellation Program , a Canadian events company offering an Opportunity Fair for live virtual events. Seven original showcases for theater, dance, music and film were featured throughout the month of August, some by early participants in the 21-Day Challenge, which is now open to more artists than ever.
Bradley has opened the door to the future - will you step through it? Crafting VR experiences will allow you to broaden your audience indefinitely, and it is available to you for no charge. Why not give it a try?
About Brendan Bradley
Bradley is a performer and creative futurist working continually at the forefront of hybrid digital art forms. He has worked in many mediums including film, television, motion capture, 360-degree streaming, virtual and augmented reality, and asynchronous performance in order to bring about the next era of stage production. He runs OnBoardXR as a community to support and inspire new artists in immersive web based extended (xR) and virtual reality (VR).
To find out more, visit https://www.brendanabradley.com/futurestages