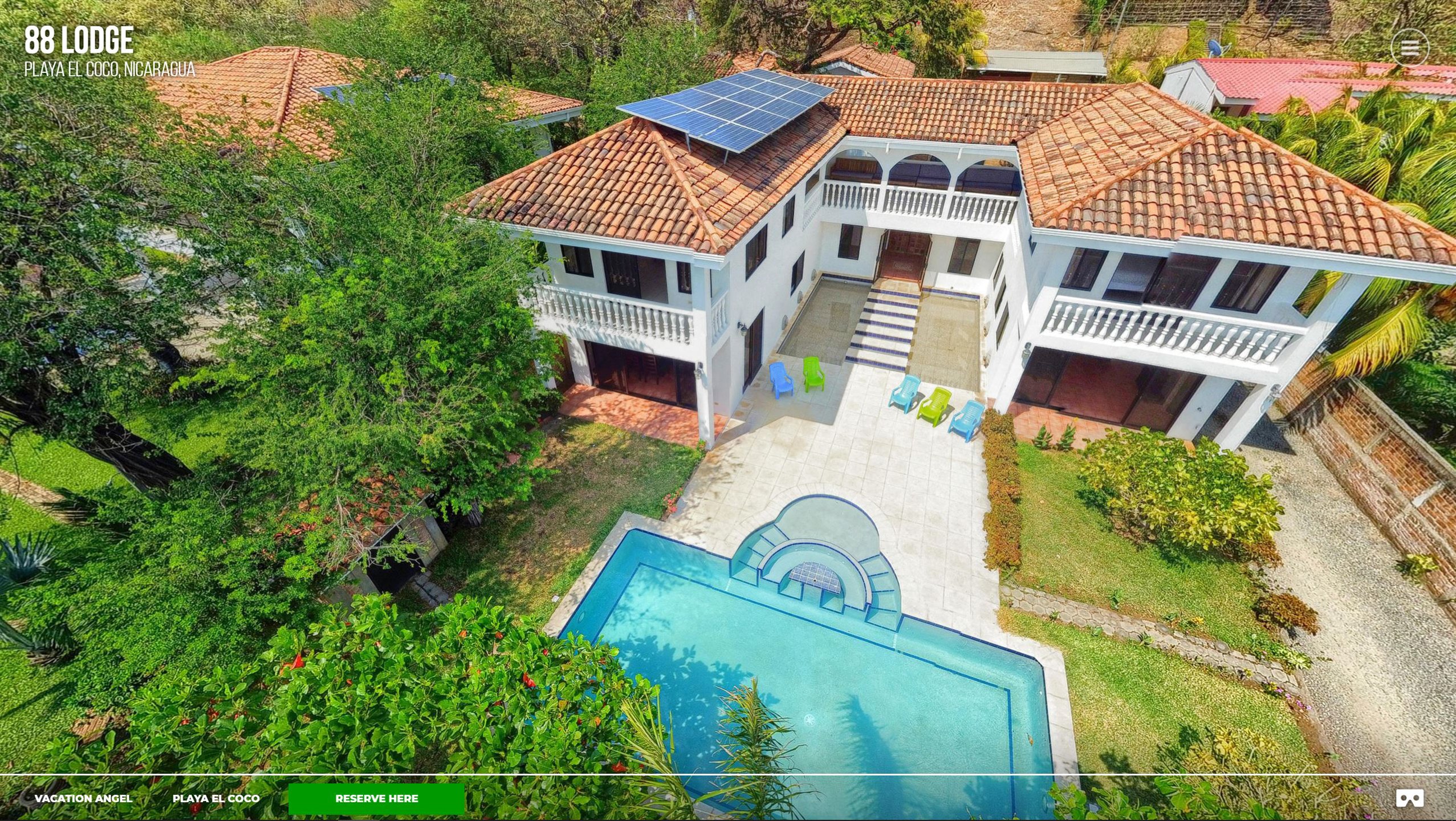 There's a new-generation contender in the Nicaragua Vacation Rental industry. It's a company called Vacation Angel and they are raising awareness of Nicaragua's amazing beaches and shorefront Vacation Rentals.
Travelers who would normally never consider Nicaragua as a place to visit are now thinking twice. Vacation Angel's motto is 'Explore before you go' and that's exactly what they aim to help people do.
Vacation Angels website is a feature-rich site that utilizes virtual tours to show people exactly what the beaches on Nicaragua's shores are really like.
Company developer, John Paul Pfeiffer says his inspiration for the project came from his first trip to Nicaragua.
'On my first trip in 2016, I decided to go based on a few nice images of the beaches and an article about good surfing. From there I was really just winging it. After spending a week traveling up and down the Pacific coast I fell in love with Nicaragua and in less than a month I purchased The Beach House on Pochomil Beach.
Throughout his years of experience in Nicaragua Pfeiffer came to realize that it was simply fear keeping most people away and that this fear stems from a simple lack of awareness.
With a background in real estate and marketing, Pfeiffer set out to raise awareness in hopes to inspire them to make the same journey.
Pfeiffer says that he wanted to create something that would give people as much information as possible in as short a time as possible. He knew that through virtual tours people could quickly and easily see for themselves what it was like and that it would hopefully inspire others to make the trip as well.
"I want to help people create exciting, inexpensive adventures for themselves but with less trial and error. I've traveled the whole country several times and I wanted to create a loose template for people to start from". Pfeiffer says.
Expenses in Nicaragua are a fraction of those compared to more popular nearby countries like Costa Rica. This makes Nicaragua an ideal location for travelers on a budget or those looking to get the most out of their money.
The Vacation Angel website currently has over 50 virtual tours of entire beaches and lakes and is growing daily.
When you click into a virtual tour it immediately transports you to an overarching ariel view of the beach. You can then click where to go and quickly see what's important to you. Each virtual tour highlights and pinpoints vacation rentals, restaurants, surfing spots, and more. Within minutes one can get to know the layout of an entire beach. Getting this rapid influx of information on a destination can give travelers that little bit of needed information to help them decide to make the adventure.
If it is, Vacation Angel helps you book your rental right from within the site. With virtual tours of the vacation rentals as well as the beach, users should feel safe knowing exactly where the accommodations are and exactly how the entire property looks. With traditional Vacation Rental Platforms, context can sometimes be difficult to comprehend as they only show single images. A virtual tour removes all doubt.
Vacation Angel curates each property listing on their site to ensure the information on each listing is correct. This helps the property owner market their properties better and travelers feel more secure knowing exactly what they are getting.
"I've had a few nightmares in Nicaragua with Airbnb on my first trip there. I showed up and the place was nothing like what I saw in the listing. Airbnb hosts were listing images of places half a mile away and omitting images to make their listings more attractive. I wanted to make user trust the number one priority of Vacation Angel so that would never happen to anyone else. We create each and every listing to ensure everything on Vacation Angel is the same in real life." Pfeiffer says.
Other things users won't find on other Vacation Rental sites are manually tested and verified wifi speeds. Vacation Angel tests the wifi speeds while on the property and adds the results to the listing details. This could be an important factor for traveling nomads who need to make sure they'll stay connected.
Every beach page includes a time warp video of the drive there, a 5-day and seasonal weather report and past user reviews.
To take a journey through Nicaraguas beaches visit www.vacationangel.com