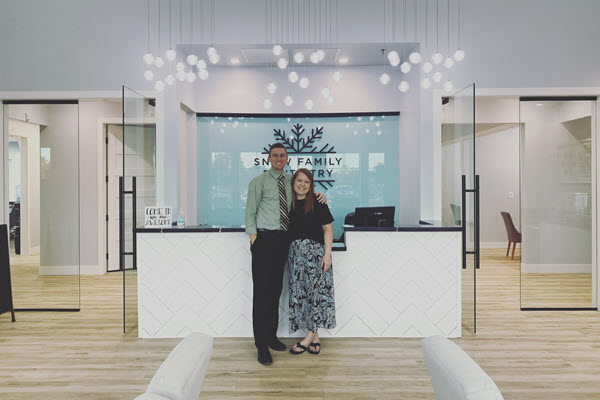 Are you tired of hiding your smile because of stained, chipped, or misaligned teeth? Snow Family Dentistry has got you covered!
With their brand new office in Mesa, they are excited to announce the latest cosmetic dentistry solutions for all you new-smile-seekers out there.
Here's how Snow Family Dentistry can help (and don't worry - it won't hurt a bit!)
✔ Get a Brace-Free Smile: Say goodbye to metal braces and hello to Invisalign clear aligners! This popular cosmetic dentistry solution provides an effective and discreet alternative to traditional braces.
✔ Get a Smile Makeover: Dental veneers are like magic wands for your teeth. These thin shells of porcelain or composite material can be used to reshape or rejuvenate the appearance of your teeth.
✔Get a Quick Fix: Need to repair a damaged or stained tooth? Look no further! Bonding treatments are a quick and painless way to get the smile you've always wanted.
Snow Family Dentistry also offers comprehensive dental services including routine cleanings, fillings, crowns, and implants. The practice places a strong emphasis on patient comfort and education, and its knowledgeable and friendly staff is dedicated to helping patients achieve and maintain optimal oral health.
About Snow Family Dentistry
Snow Family Dentistry is a family-owned dental business that has been serving thousands of clients for over four decades. They offer a complete range of dental solutions, from preventative to restorative and cosmetic. Their team, led by experienced dentist Dr. Dallin Snow, treats every patient like one of their own, providing high-level dental expertise, ample comfort, and friendly service.
The result? A flawless 5/5 rating out of over 280 Google reviews!
A satisfied patient said: "I have been going to Snow Family Dentistry for over 20 years. Dr. Snow is a fantastic dentist. He takes right after his father who was a fantastic dentist as well. Daniella has been my dental hygienist for a number of years now. She is great at what she does, and is also an amazing person. The whole office is quite exceptional. I'm very glad that Dr. Snow has been able to carry on, and elevate, the great legacy that his father started. He truly cares about your well-being."
Ready to get the smile you've always wanted? Visit Snow Family Dentistry's new office in Mesa and schedule a consultation appointment today!