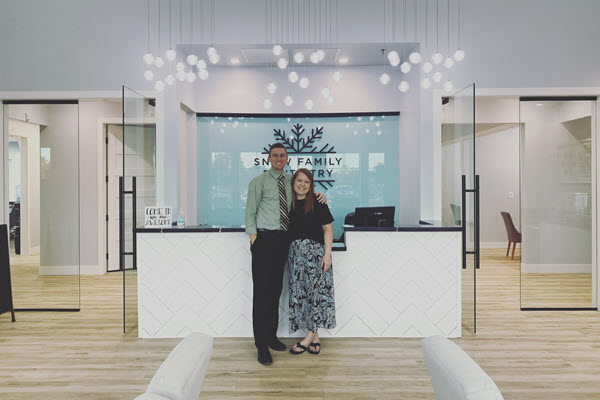 Do you feel bashful about smiling because of that chipped tooth, those stains, or the funny gap? Well, that's no way to go through life! For one thing, smiling can literally make you happy! And what's easier than that?!
This second-generation family practice offers treatments like veneers, teeth whitening, and Invisalign to address a variety of cosmetic dentistry issues. These procedures can improve your overall dental health and oral hygiene in addition to producing satisfying aesthetic outcomes like brighter smiles!
You can learn more at https://www.snowfamilydentistry.com/services/cosmetic-dentistry
Snow Family Dentistry, led by Dr. Dallin R. Snow D.M.D, also offers dental crown and bridge treatments for damaged or missing teeth. Dental crowns can be used to cover discolored, misshapen, or weakened teeth. They can also serve to anchor dental bridges and cover implants.
Cosmetic dentistry encompasses any treatments intended to enhance the appearance of patients' teeth, gums, and bite. The most common procedures in cosmetic dentistry include teeth whitening, alterations in dental appearance, and treatments for malocclusion or misalignment.
According to studies and related surveys, more women in particular choose aesthetic procedures as a result of psychological drivers such as self-worth, life satisfaction, and perceived physical attractiveness. Through the end of the decade, the market for cosmetic dentistry is anticipated to rise by over 13% yearly.
Snow Family Dentistry provides two solutions for teeth whitening, both of which yield lasting results. In-office teeth whitening takes about 90 minutes and has an immediate impact. The practice's at-home teeth whitening kits, which may take up to two weeks before delivering results, will afford you greater privacy and flexibility.
The clinic's Invisalign clear braces treatments correct overbite, underbite, and teeth crowding - aesthetic matters that often cause oral hygiene problems. Invisalign is especially popular because the clear aligners are removable when necessary and are not conspicuous, like traditional metal braces: in other words, if you've got a job interview coming up, no worries!
Misaligned, chipped, or gapped teeth can also be treated with veneers—thin adhesives that will also conceal badly stained or discolored teeth. They are custom-made to provide the color and shape necessary to integrate seamlessly with the surrounding teeth.
Additionally, Snow Family Dentistry offers restorative, preventative, and emergency care dental services.
One patient commented: "Snow Family Dentistry is by far the best place I have found for all my needs when it comes to my teeth and gums. Dr. Snow has also been awesome for the times I have needed more than cleaning. The prices are fair and their new facility is state-of-the-art. Highly recommended."
This is a 5-star clinic, by all accounts—just ask Google!
You can call 480-982-7289 or go to https://www.snowfamilydentistry.com/services/cosmetic-dentistry and see for yourself the treatments and the service offered. Did some say "massage chairs"?!