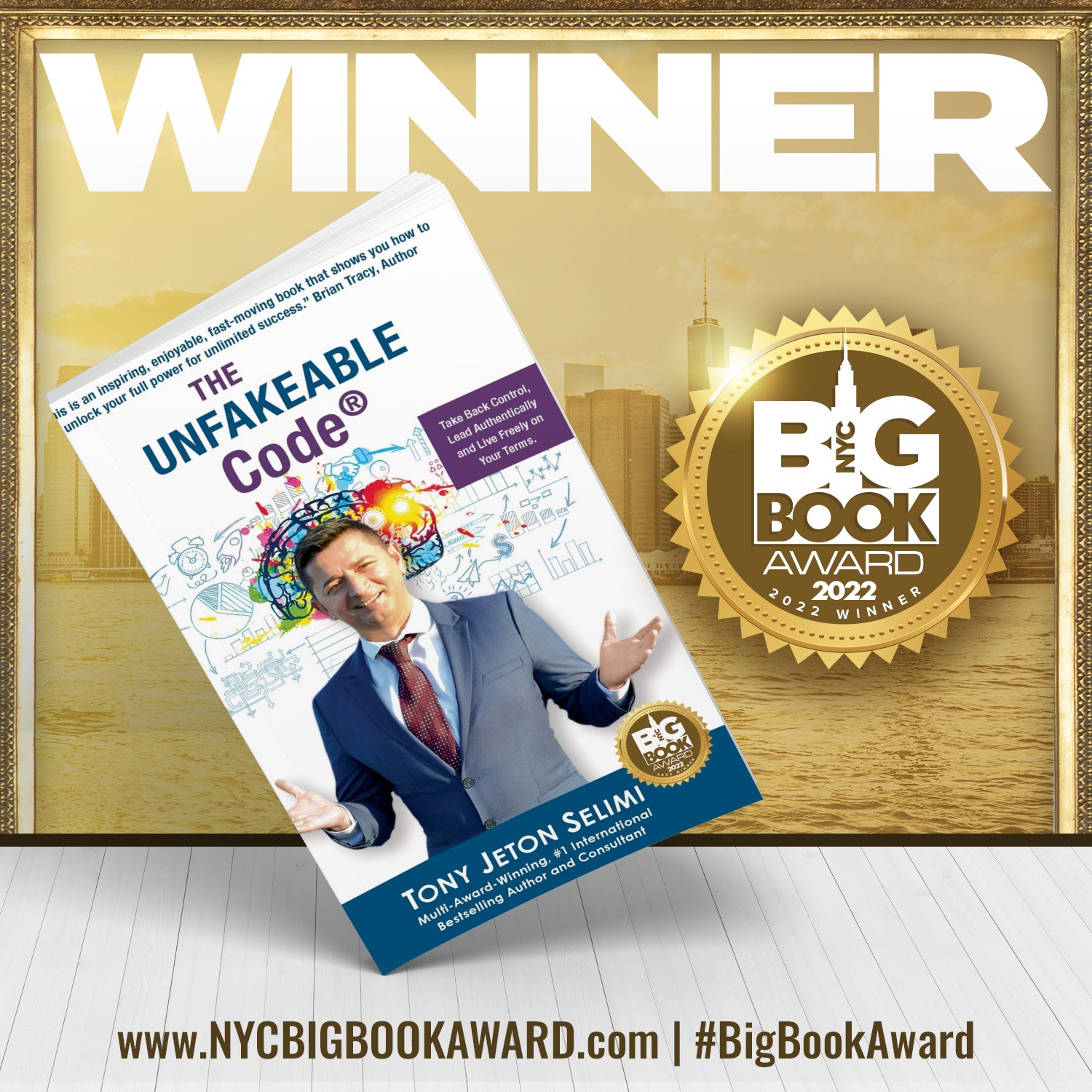 The world is going through tough times. If you're stressed, depressed, or overwhelmed, it may be hard to move forward. To find out how to cope with your emotions, reframe your perspective, and grow regardless of economic turbulence and uncertainty, read Tony Selimi's new book.
"The Unfakeable Code®: Take Back Control, Lead Authentically and Live Freely on Your Terms", the bestselling author and world-renowned transformational coach's latest book, is now available on Amazon.
It is a product of Tony J. Selimi's 30+ years of research in human behavior and cognition, as well as his extensive coaching experience working with people from various professions and walks of life. The Unfakeable Code® offers you practical ways of liberating yourself from mental chaos and a disempowered state of consciousness and transforming your mindset to take back control, observe life with objectivity, and be your authentic self.
Go to https://www.amazon.com/Unfakeable-Code-Control-Authentically-Freely/dp/3991073854 to find out more.
Do you feel that your mental health, productivity, and personal life have been affected by the recent pandemic, current economic instability, and high uncertainty? Then this book is for you! Recognizing that many people may feel stuck or powerless, find themselves in toxic or codependent relationships, and experience anxiety and depression, Tony J. Selimi emphasizes the importance of looking at your problems with objectivity.
"I believe the power of authenticity is extraordinary, and every human has the ability to be authentic," said Selimi. "An individual with an authentic Identity is a person who understands themselves, their desires and goals - who is not confused or struggling. They don't feel the need to create an image based on the outside perception of themselves. They are self-directed and honest. They are confident in who they are. They trust themselves enough to be true to their beliefs, values, and experiences; they have a strong sense of self. This leads to a sense of well-being, increased value as a human being, and enhanced relationships with others. To live authentically, it is wise to let objectivity be the lens through which one engages, interacts, and observes reality."
The Unfakeable Code® introduces Selimi's proprietary five-step system that can be used for positive transformations in business, work, relationships, or personal life. By completing the suggested exercises and applying the five principles in their daily lives, readers will be able to dissolve their emotional charges, replace destructive behavior patterns, and create new perspectives of thinking to make better decisions and live authentically. Using the method, people can navigate stressful situations better, work will be more satisfying and productive, and they will have the creative energies and resources to create a meaningful and fulfilled life.
One reader wrote in their review on Amazon, "This book is written in a way that is so very easily understood with practical examples and tools towards life elevation. In addition, the book has layered Wisdom within, in that the depth of the universal truths contained within reveals itself like the layers of an onion."
Uncover your authentic self and unleash your true potential with advice from a world-famous transformation coach.
Go to https://www.amazon.com/Unfakeable-Code-Control-Authentically-Freely/dp/3991073854 to order your copy today!