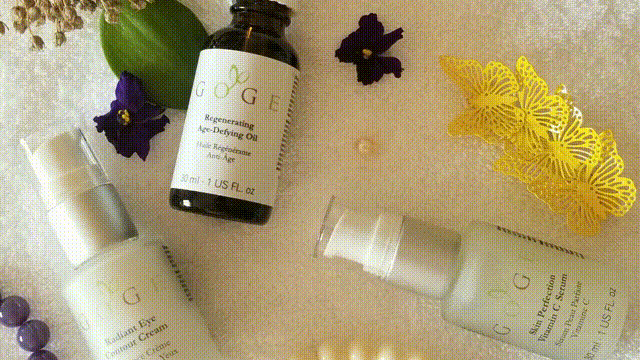 If you want skin that is naturally youthful, radiant and firm, you need GOGE Lifestyle.
Their new featured product, called the Regenerating Age-Defying Oil, comprises a host of naturally nourishing and vitamin-rich ingredients that will improve your skin's texture and luster. Like all of GOGE Lifestyle's products, this skin oil contains organic ingredients and has been developed by the brand's founder, a licensed esthetician with vast experience in formulating healing products for people with sensitive skin, aging skin, and other conditions like eczema.
Go to https://www.gogelifestyle.com to find out more.
The launch of their new all-natural anti-aging skin oil coincides with a recent report from SafeCosmetics.org in conjunction with the Breast Cancer Fund's Campaign for Safe Cosmetics. As their joint research discovered, the anti-aging skincare industry is currently America's worst for the use of harmful and carcinogenic ingredients. Many of the country's most popular drugstore brands' anti-aging products contain chemicals that are strongly linked with breast cancer and endocrine disruption.
While GOGE Lifestyle understands you want wrinkle-free, bright and firm skin, even as you age, they believe that the application of harsh and harmful chemicals is not the answer.
As such, they have developed their Regenerating Age-Defying Oil to actively heal, nourish and restore your skin from the inside out. The expert organic and vegan formulation is deeply hydrating and works to regenerate your skin's protective barrier.
To do so, it contains an expert blend of organic olive fruit oil, coconut oil and avocado oil. This blend is then further enriched with potent calendula, coffee, jasmine, rose, apricot, apple, cinnamon bark and clove extracts.
These products have been selected because they are deeply nourishing and regenerative, yet also gentle on your skin. GOGE Lifestyle believes this makes their new skin oil the perfect choice for you if you have sensitive skin or another skin concern.
In addition to their new Regenerating Age-Defying Oil, GOGE Lifestyle has an expansive collection of cleansers, toners, exfoliants, hydrating creams, day creams, and vitamin serums you're sure to love. You'll appreciate that all their products are organic, vegan, non-GMO, biodegradable and cruelty-free.
A spokesperson for the vegan and organic cosmetics brand said, "Rich in soothing, antioxidant and restructuring ingredients, our Regenerating Age-Defying Oil improves the flexibility and elasticity of the skin to bring more comfort and a feeling of well-being. This precious oil provides daily protection against external aggressions and contributes day after day to a younger, more radiant complexion full of vitality."
With GOGE Lifestyle, your skin will look and feel incredible at any age.
Visit https://www.gogelifestyle.com if you want to experience the GOGE difference and enjoy soft, supple and luminous skin.