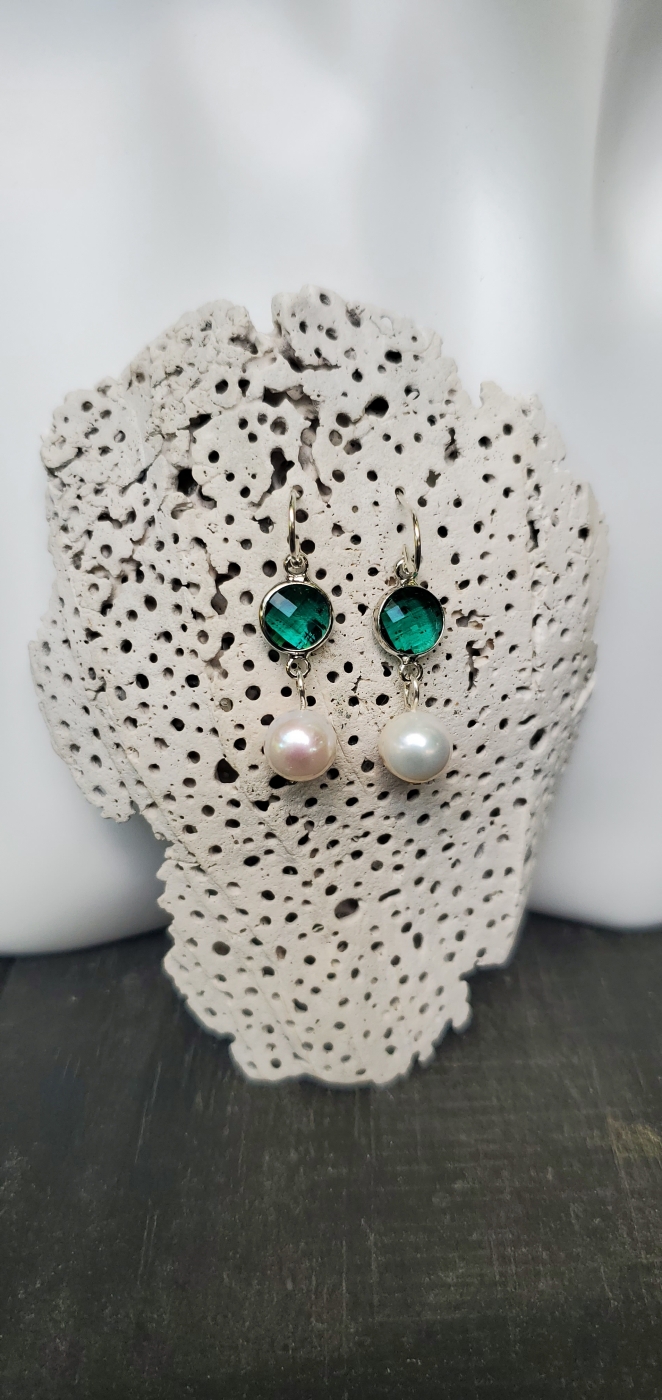 When you're shopping for jewelry, it's personal. Whether you're looking for a meaningful gift, or you're in the mood to treat yourself to that special piece that captures your aesthetic, you want something no one else has.
Welcome to Rachise Designs! An online jewelry store where every piece was conceptualized and handmade by designer Denise Rogers.
Rachise Designs offers you a beautiful selection of sterling silver, leather, brass, pearl, birthstone, polymer clay, and recycled copper earring sets, necklaces, wrist bands, leather jewelry, and more. On sale right now for 50% off is the 8mm faceted Austrian May birthstone crystals with Baroque pearls earrings with Sterling Silver/14k Gold plated settings.
Shop now and save at https://rachisedesigns.com/pages/special-price-50-off
Custom made jewelry pieces impart a level of meaning and unique artisanal qualities you can't find at any of today's standard brand name retail outlets. Handmade jewelry creates a connection between the person wearing it and the designer, making it an extra special and enduring keepsake.
The hand-crafted, one-of-a-kind earrings, necklaces, and wristband jewelry pieces at Rachise Designs offer you this level of unmatched value. And, with the elegant Austrian May birthstone crystal and pearl earrings on sale, you get an affordable piece of artistry that can't be found anywhere else.
This earring set features genuine rich and creamy baroque pearls that contrast pleasingly with emerald birthstones to create a sophisticated combination you can wear every day, to the office, and for more formal occasions.
To complement your birthstone earrings, Denise recommends you look at her forged recycled copper earrings accented with genuine amethyst chips, and the gold leather leaf earrings with lightweight genuine leather accented with sparkle flecks and gold hook closure. All of these sets make beautiful gifts, and even better additions to your own jewelry box.
All pieces featured at Rachise Designs are individually conceptualized and hand-crafted. You won't find jewelry like this anywhere else.
Collections include drop polymer clay earrings with metallic highlights; etched brass boho cuff earrings; hand hammered, adjustable copper rings; accented copper with white and blue hued rectangle earrings; forged copper chain necklaces with Swarovski crystals, moonstones, labradorite, and blue crystals; and much more.
Artist Denise Rogers is a metalsmith with a passion for natural stone, copper, sterling silver, and brass materials. Her inspiration comes from her experiences in nature along with her travels throughout France, Thailand, and beyond. A designer since 2012, Denise is a student at New York Institute of Art and Design currently studying a range of creative disciplines.
Get Denise's handmade Austrian May birthstone earrings with emerald crystals, genuine Baroque pearls and sterling silver/14k gold settings on sale now.
While you're at it, pick up a few things for your mom, sister, or those special besties in your life. And when people ask about your selections you can regale them with a backstory that's far more interesting than the regular "saw it in the window along 600,000 identical pieces" spiel. Because you've got that one-in-a-million eye for style.
Is it time to treat yourself to something really special? Visit https://rachisedesigns.com/pages/special-price-50-off to find out more.