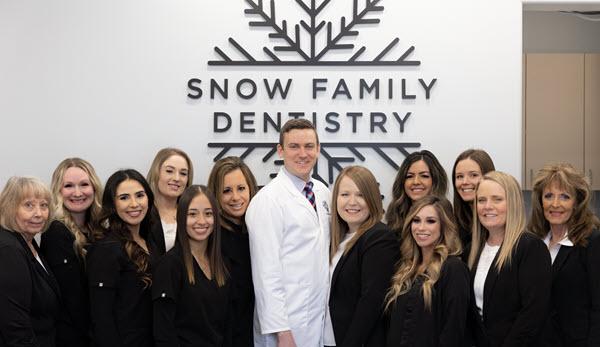 Teeth alignment Mesa, AZ - For most people, when they hear braces, an image of a child with metal wires, brackets, and all, poking out from their teeth, comes to mind. Granted, braces were once made of these hideous appliances, but those days are long gone now. https://www.snowfamilydentistry.com/blog/teeth-alignment-how-does-it-work/
Today, thanks to advancements in technology, braces are tinier, more comfortable, and better looking. There's even a class of braces that is almost invisible - yes, you read that right.
You see, unlike conventional metal braces, these clear aligners are a more discreet and comfortable alternative for correcting various tooth misalignments - and you can get those at Snow Family Dentistry.
Visit https://www.snowfamilydentistry.com/services/cosmetic-dentistry/invisalign-mesa-az to learn more now.
The aligners offered by Snow Family Dentistry are custom-made to fit firmly and comfortably over your teeth and incrementally shift them into the desired position based on a pre-determined plan. They are suitable for patients of all ages, including children, teenagers, and adults.
These aligners, such as Invisalign—one of the most popular brands on the market—are designed to reshape your irregular or gapped teeth and correct malocclusions without metal brackets and wires.
They are made from transparent material and can be removed for special occasions and when you're eating and drinking, making them less noticeable and a more flexible option than metal braces.
Each set of the aligners is worn for at least two weeks, at the end of which you will switch to the next set in the series until your treatment is complete.
While Invisalign aligners are used to treat a range of orthodontic conditions, they may not be the right option for every patient. As such, the dentists at Snow Family Dentistry will, during the initial consultation, evaluate your gum and tooth health to determine whether you are a suitable candidate for the treatment.
About Snow Family Dentistry
For over four decades, Snow Family Dentistry, led by Dr. Dallin Snow, has served local families in Mesa, Gilbert, and Apache Junction, Arizona, providing them with a range of quality dental solutions to meet their oral health needs.
Along with its Invisalign treatment, the dentist's office also offers preventative and family dentistry, as well as restorative dental treatments.
A representative said, "Invisalign represents a new way to straighten teeth, using transparent plastic aligners instead of metal brackets. Not only is Invisalign more discreet than conventional braces, but it also represents a more comfortable and expedient way to achieve the smile you have dreamed of. "
Now you can achieve a straighter, more beautiful smile discreetly with Snow Family Dentistry's Invisalign treatment.
Read more about the practice's treatment at https://www.yahoo.com/now/invisalign-mesa-az-updated-snow-074500855.html or call 480-982-7289 to schedule a dentist's appointment.