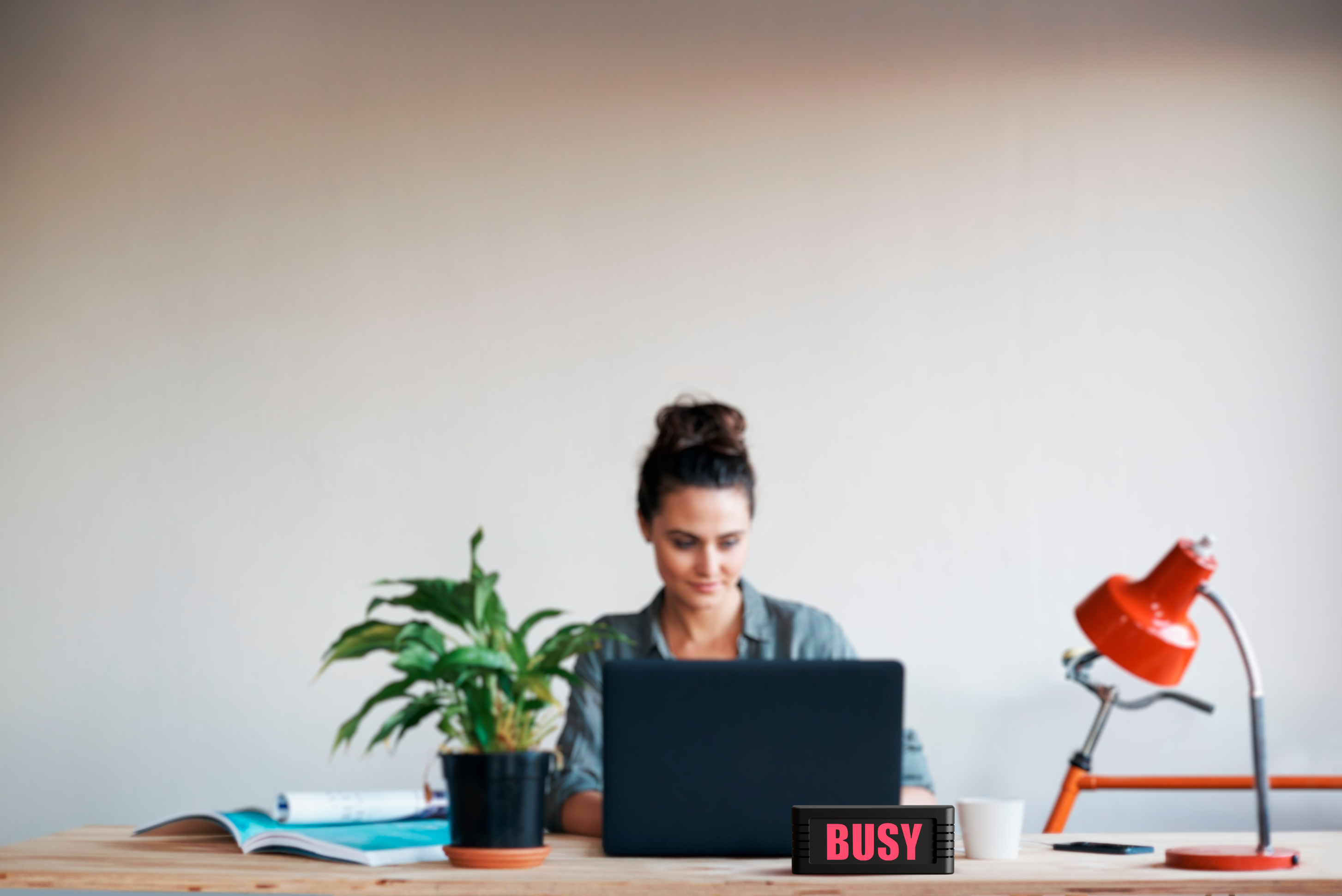 Working from home has its pros and cons. On one hand, you can sleep in late and "go" to work in your pajamas. On the other hand, the threat of constantly being interrupted by your partner, child, or doorbell is always there.
You know what we're talking about, right?
Just when you think you can get some work done, it's, "Honey, I need you to fix something."
Inch your butt just ever so slightly to your work chair, and it's "Mom, I need help with my homework."
Just LOOKING at your laptop for a video call with a client will inspire your kids to knock loudly - and boom. The meeting becomes total calamity.
If you need a physical sign that tells the members of your house to give you some space, then here's the perfect solution for you!
Introducing, BusyBox, the newest type of digital "Do Not Disturb" sign that includes the latest technologies for easier integration with your smartphone. Now, you can sync your Google calendar with your BusyBox and it will automatically turn on or off during scheduled events.
Another enhancement is the new grouping feature which allows you to control multiple BusyBoxes from the app. This feature is particularly recommended for multiple-income families where both parents need to have separate workspaces and not be disturbed for a certain amount of time.
Learn more at https://shop.busyboxsign.com
Steve Skillings, the inventor of the BusyBox, explain that their innovative LED sign can be adjusted for color and brightness. You can also select or create presets and then hang your "Do Not Disturb" sign outside of your door.
The concept for the BusyBox started during the onset of the pandemic in 2020. As more employees chose to work from home, finding the right balance between their personal and professional lives became difficult. Skillings wanted to create an easy-to-understand neon sign that could be used around children and other work-from-home family members.
They created the BusyBox, which illuminates various phrases such as "Busy", "Do Not Disturb", or "Recording". After a successful IndieGoGo campaign, the products were featured in the popular startup entrepreneurship show, Shark Tank.
Today, BusyBox features 4 different models: BusyBox R, the most affordable one; BusyBox S, the most popular one; BusyBox D, the most flexible one; and BusyBox P, the 8-bit model. Each model can be connected to the BusyBox app and is enabled for Siri and Google Assistant.
Want something more creative? Choose the BusyBox D so that you can create your own custom sign, like "get out" or "NO". The world is full of choices, so choose an option that helps you work smarter and send the right message.
All models come with long-lasting rechargeable batteries that can run for more than 120 hours on a single charge.
Though it can be used on its own, the BusyBox can be purchased with several other accessories, including a BusyBox Button, table stand, tripod stand, and various types of covers.
The company also announced that they intend to release newer integrations for their product every month.
A spokesperson for the company said, "Our startup is dedicated to creating state-of-the-art, high-quality products for content creators, eLearning, and work-from-home professionals. Updateable and upgradable these products are going to hang around for years. Our lifetime warranty means you can buy worry free."
Go to https://shop.busyboxsign.com so you can learn more.