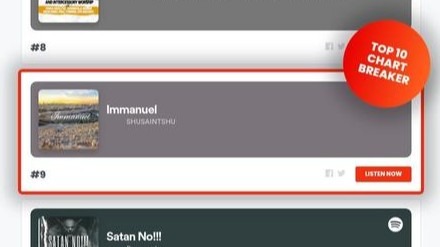 Music streaming platforms have become the go-to way of discovering new music. With its immense library of music, it's no surprise that Spotify is one of the biggest contributors to this trend. Recently, a new independent artist has been making waves in the gospel music industry; ShuSaintShu! His two singles " Immanuel & You're My Friend have simultaneously made it to the top 100 charts sponsored by Hypeddit on Spotify and are quickly becoming fan favorites. Let's take a look at what makes ShuSaintShu so popular.
ShuSaintShu's sound is unique and easily recognizable; his catchy beats blended with his smooth vocals make for a memorable listening experience. His seamlessly blends R&B and hip hop elements together to create an upbeat vibe that can be heard in songs like "Still down for me" or "You Are Appreciated". He also infuses jazz elements into his music, creating a combination of styles that give each song its own identity. Pay close attention to any of ShuSaintShu's songs and you'll hear subtle nods to some of his favorite artists, from Tupac Shakur to other hip hop greats.
These influences combine with his own style to create a sound that's fresh yet familiar—it's no wonder why people are flocking to listen! Aside from being influenced by popular artists, he also draws inspiration from everyday life experiences, which gives his music a personal touch that listeners can relate to.
While many people listen to music just for entertainment, there is often an underlying message in each song. In ShuSaintShu's music, listeners can find themes such as Gods unconditional love and his never-ending grace and mercy—all topics that
are important today more than ever before. It's no surprise why fans are drawn to him; not only does he make great music, but he also shares powerful messages through his lyrics! ShuSaintShu has caught everyone's attention with his unique style and meaningful lyrics! His two latest singles have been climbing up the charts rapidly since their release due in large part due to their infectious melodies and inspiring messages about finding Gods love and refuge in difficult times. Are you ready for your next favorite artist? Give ShuSaintShu a listen today!
Click Here
To Listen now: Spotify