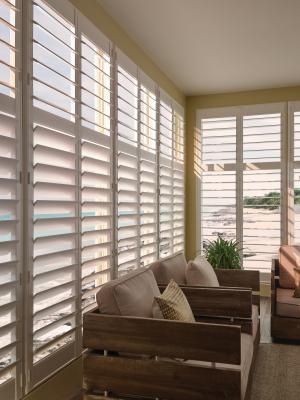 Here's one for you - why was the Berlin Wall torn down? Well, it didn't match with the Iron Curtains! Well, if you think that explanation is up for debate, one thing which certainly isn't is that the effect that curtains have on the ambiance of a room. The right pair can make it and the wrong pair can break it.
Inside Solutions now offers an expanded range of products so that Kansas people like you can install a product that combines form with function. The tasteful addition of drapery, curtains, and valances can add texture and color to a room while also increasing levels of privacy.
If you're keen to learn more, then be sure to visit https://insidesolutionsllc.com/curtains-drapery
Inside Solutions can install soft window treatments that complement the existing décor in your room. You are provided with a range of options that take into account the architecture of the house, the availability of natural light, and the individual's need for privacy. Tweaks and refinements can be made to the company's product offerings to ensure that your individual budgetary requirements are met. Rather than receiving a "one size fits all" solution, you will get a unique quote for the job you are looking to have completed.
There are a number of well-documented benefits associated with the installation of curtains and drapery in a room. Along with offering a mechanism to regulate light and privacy, curtains also provide a layer of heat regulation that can make a room more energy efficient. Soft window treatments also form a barrier against UV rays, which helps to protect against damage to furniture, floors, and artwork. A stitch in time saves nine, so installing curtains now will avoid damage occurring months and years down the line.
Inside Solutions has developed an extensive product offering to help you make the right styling decision. Samples of soft shades, side panels, top treatments, and upholstered cornices can be viewed on the company website. All product installations start with a free consultation, where customers can complete a questionnaire that details requirements and expectations. Once this is done, a consultation will be scheduled where one of the team members will come out and view the project.
The company also provides alternative window covering services for homes and businesses located in the greater Kansas City region. These services include the installation of roller shades, shutters, and blinds. Customers are given the chance to choose from hundreds of different materials and fabrics so that all rooms can have a truly unique finish.
Based in Overland Park, Kansas, Inside Solutions is a family-owned business that has been in operation for more than 20 years.
A spokesperson for the company said: "The company does not charge consultation fees nor does it charge by the hour. Above all else, Inside Solutions strives to offer a high-quality and affordable service."
Soft window treatments should be a no-brainer for people living in the midwest. The hot summers and harsh winters mean that people need an effective way to control the amount of heat that enters and leaves a room. It's a service that provides the unique opportunity to combine enhanced beauty and functionality with reduced energy costs.
If you're looking to schedule your free consultation, head over to https://insidesolutionsllc.com/curtains-drapery to fill out the questionnaire!