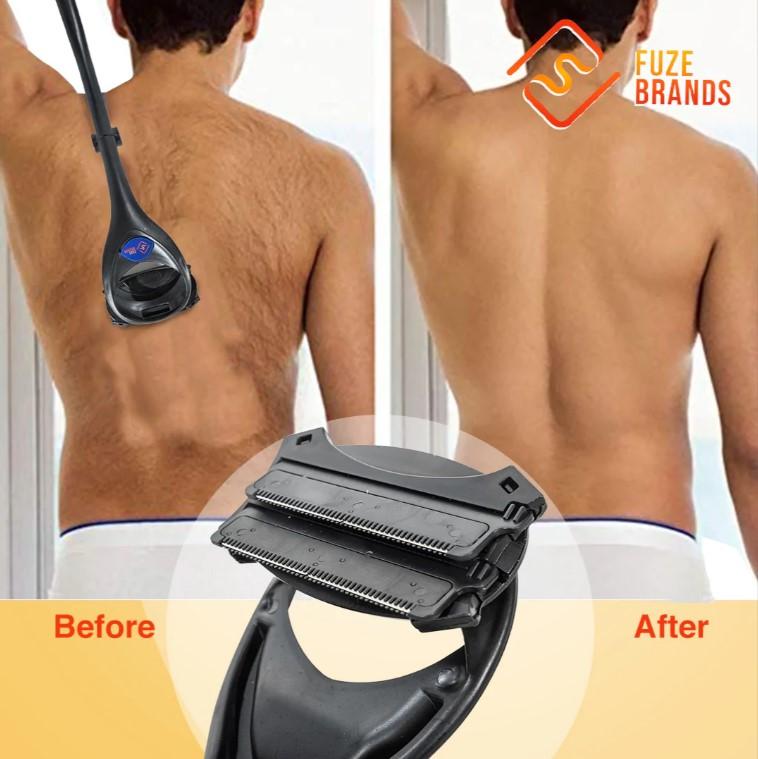 Yeti. Cousin It. Man Sweater. If you've got excess body hair, you've probably heard them all. And sure, Chewbacca might be awesome - but he's not exactly a role model for the ideal male appearance. So do something about it, and show them all next time you're down by the pool, with the Back & Body Shaver For Men from men's gadgets and grooming experts, Fuze Brands.
A simple and effective tool to make hair removal a pain-free process, the shaver features a longer handle in response to customer feedback, as well as additional Dry Glide blades for long-lasting performance.
Go to http://bit.ly/2qRG0a0 for more information.
Due to its removable head, The Back and Body Shaver is now simpler to maneuver across your entire body and can be used with additional precision without the risk of nicking or cutting yourself.
Though body hair removal has long been considered a female topic, men's excess body hair is very much a thing - though less talked about and often considered taboo. As such, the idea of asking your friend or partner for help might seem like the ultimate cringeworthy question - but the shaver from Fuze Brands provides you with a way to do it all yourself.
Developed for you to use (Han) solo, the Back and Body Shaver uses anti-rust Dry Glide blades that feature small teeth designed to catch even the smallest of hairs without cutting or breaking your skin. So even large areas such as your back - a place that's always been considered hard to reach and harder to see - can be shaved with ease, especially with the new longer handle.
Suitable for the rest of your body as well as your back, the shaver is a painless way to remove hair without the need to resort to painful waxing or patchy hair removal creams. Popular with swimmers, bodybuilders, and those with excess hair that chafes and scratches, the shaver has a large removable head that can be used across your abdomen, arms, and legs whilst wet or dry, without the need for fuss with shaving foams.
For traveling, the long, ergonomic handle folds 180 degrees for easy storage, is easy to carry, easy to clean, and does not require battery power. The shaver also comes with four additional Dry Glide blades, with discounts offered if you purchase multiple items.
"I've got just a few hairs on my back, but I can't ever reach them with my conventional razor," said one satisfied customer. "Ten seconds with this tool and I'm clean as a whistle. Thanks."
Fuze Brands is the men's grooming and gadget retailer you can trust for clever ways to make your life easier, every day.
Ready to feel the breeze on your back? Visit http://bit.ly/2qRG0a0 to order yours.