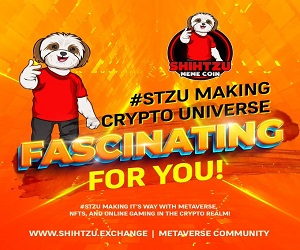 Our ancestors spent their time gazing upwards at the stars – the final frontier of human exploration. Now that we've been there, though, we realized that it isn't all it was made out to be. Instead, we can build our own digital worlds and fill them with whatever we want, instead of drifting around in clouds of gas and dust.
The Metaverse is the future of entertainment, and the people who power that future are going to be the ones who benefit most from it. Shihtzu Coin is here to put you in control of the future of Web3 with their presale launch of the Shihtzu Exchange.
To learn more about the people building the future of the blockchain, visit https://yulinkup.com
The new Shihtzu Exchange service will be the premier platform to trade in $STZU and $STZU-backed assets. The coin will be used to execute smart contract integrations, mint NFTs, carry out scans and licensing, and power the Shihtzu team's Metaverse/DeFi gaming endeavors.
It's easy to find yourself awash in a sea of memecoin-like projects which lack real utility, which is something that $STZU has been created to combat. Their ambitions and roadmap are on par with that of other successful memecoins and $DOGE in particular.
Through their platform, they hope to drive down the cost and increase the accessibility of the NFT market by decreasing minting and licensing fees. Their platform will also host Shihtzu Coin-themed NFTs featuring their mascot so that interested parties can show their support for the project on their Metamask or Opensea accounts.
The Shihtzu roadmap suggests that not only does the platform intend to lower exchange fees in relation to the competition, but to eliminate them altogether. This will make $STZU one of the most efficient and cost-effective trading options among its other high market cap contemporaries.
Following their presale period, the team also intends to launch their own blockchain with the end goal of stabilizing prices and limiting volatility. The platform as a whole will be available online or through their mobile app, which is scheduled to launch alongside their blockchain release.
Their operation and whitepaper have been fully audited and certified by Certik, a trusted name in blockchain monitoring. As a project, they seek to establish the trust of their user base above all else in order to separate themselves from the rug pull and pump-and-dump schemes which have plagued the market in recent years.
The Shihtzu Exchange opened for presale in early September, with a full launch expected in Q4 2022.
Do what the explorers and cartographers of old could never do: take an interest in digital currency! You can view the full Shihtzu Coin roadmap on their website to get a full idea of the future of this project.
Read more about the Shihtzu team at https://shihtzu.exchange
Disclaimer: The information provided on this page does not constitute investment advice, financial advice, trading advice, or any other sort of advice and it should not be treated as such. This content is the opinion of a third party and this site does not recommend that any specific cryptocurrency should be bought, sold, or held, or that any crypto investment should be made. The Crypto market is high risk, with high-risk and unproven projects. Readers should do their own research and consult a professional financial advisor before making any investment decisions.