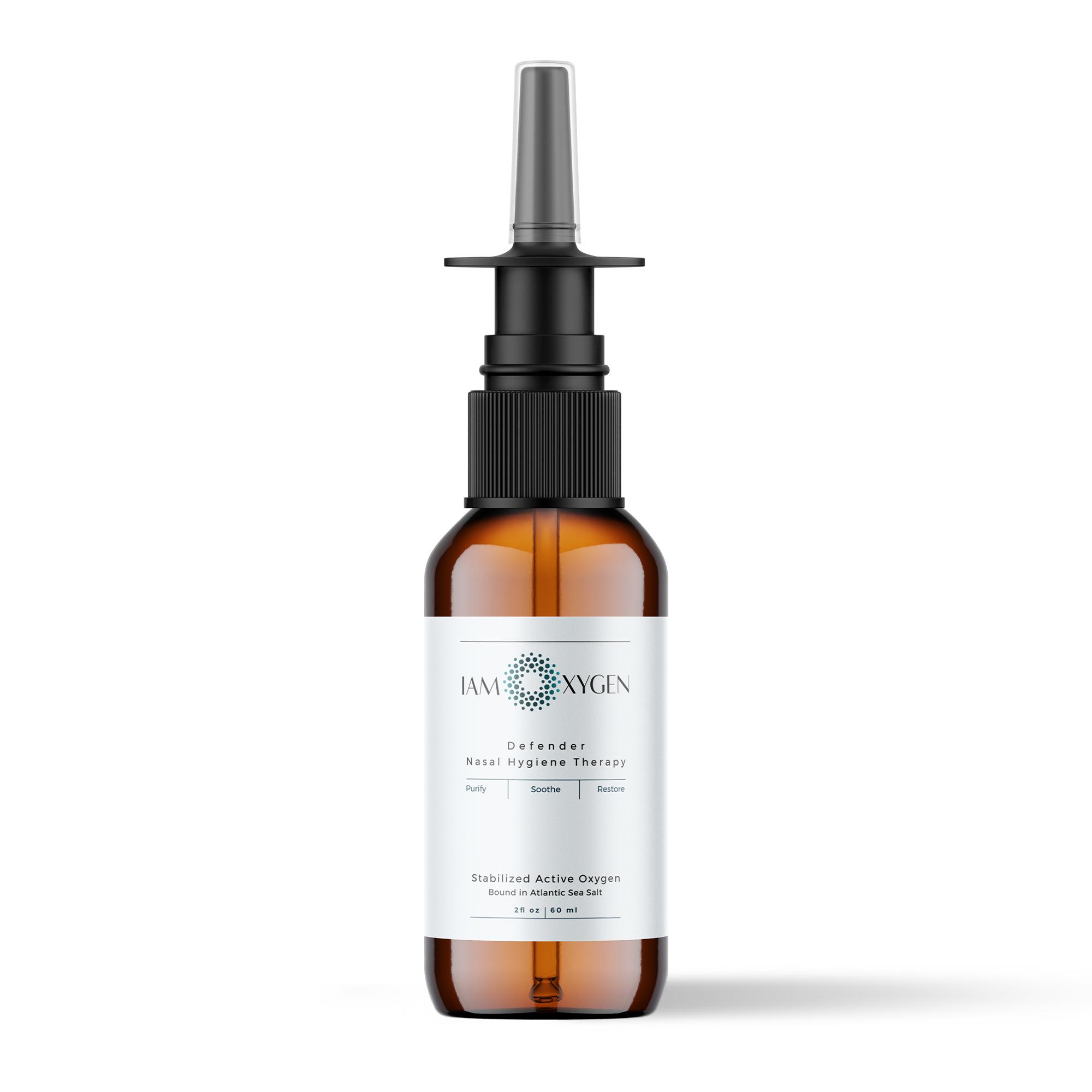 Allergens, pollutants, and dust can collect in your nose and lead to pain and irritation, but the nasal spray from IamOxygen will help moisturize your dry mucus membranes and flush nasal debris!
The 'Defender Nasal Hygiene Therapy' infusion contains 500 sprays of stabilized active oxygen, as well as immunity-boosting trace minerals like zinc and selenium.
Learn about its hydrating and soothing properties at https://iamoxygen.com/product/defender-nasal-hygiene-therapy
IamOxygen created its soothing liquid concentrate based on recent research on the promising potential of oxygen, and bio-oxidative therapies to be used to alleviate irritation in the mucus membranes and reduce congestion.
The spray uses a proprietary formula designed to boost oxygen molecule density within your nostrils and sinuses. By hyper-oxygenating your nasal passages, the spray help reduce anaerobic materials and other toxins, which would otherwise cause you irritation, from thriving.
As such, it can help flush the pathogenic invasion and bacterial replication processes that lead to inflammation and dryness. The pH-balancing spray hydrates and enhances the protective mucus membranes that support your healthy nasal flora.
Containing 350,000pm of active oxygen concentrate, the nasal hygiene product helps open up your sinuses for easier respiration. Alongside reducing the adhesion of bad actor debris, it helps flush free radicals and the collection of fungi, pollen, dust, and allergens to promote a healthy nasal biome.
You can spritz it into the nostrils at least twice a day, morning and night, to soothe the inflammation and discomfort caused by cold, flu, and rhinitis symptoms, or to flush out allergens and pollution and soothe dryness related to hay fever. IamOxygen says that the product can also be used in medical spas after treatments to help cleanse nasal passages and alleviate dryness, as well as for on-the-go irritation relief and to help purify nasal passages after close contact with other people.
About IamOxygen
IamOxygen offers you natural, organic, and vegan facial mists, nasal sprays, and concentrates as alternatives to chemically-derived cleansing products. Using 100% cruelty-free methods, its products are made in a US-based GMP facility under strict quality control regulations.
A spokesperson for the company said, "Proper nasal hygiene is just as important as washing your hands and brushing your teeth… your nose is an ideal environment for germs to multiply and cause illness. IamOxygen is completely natural, fast-acting and extremely effective."
IamOxygen leverages the power of stabilized active oxygen to soothe mucus membranes and help boost immunity - discover the benefits of using its daily Defender nasal spray!
Browse the full range at http://iamoxygen.com