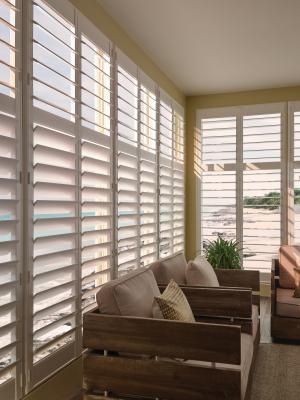 Who said that window treatments can't be statement pieces? With plantation-style shutters from Inside Solutions, your windows will become bonafide focal points.
Inside Solutions, LLC. offers custom-made shutters made of wood and composite material. These window treatments control lighting and increase privacy, all while lending your house a sophisticated look.
Learn more by visiting https://insidesolutionsllc.com
These window treatments are an excellent addition to your newly purchased or remodeled house. Installing shutters can enhance a room's insulation, boosting energy efficiency and reducing outside noise. Furthermore, the classic look blends well with your existing interior design.
Industry experts estimate that window shutters have a return on investment or ROI of 75%, making them a worthwhile upgrade. This generous return stems from their functional and aesthetic benefits.
If you buy them from big-box stores, however, you limit the styles and materials available to you. Inside Solutions custom-designs all products, ensuring that its window treatments genuinely complement your home.
You can fill out a short questionnaire to determine the kind of shutters that suits your house. You can then book a no-obligation consultation to discuss the recommended solution. A consultant will make an in-person visit to assess your home and offer preliminary design advice.
Feel free to visit the contractor's website to see and compare prices for various window treatments.
About Inside Solutions
Inside Solutions offers window treatments that elevate interior spaces and improve the value of homes. In addition to window shutters, it also sells and installs curtains, drapes, blinds, and cellular shades. The company was established in 2001 and has served hundreds of clients in Johnston County and Kansas City.
A satisfied client shared this review: "We had a first-class experience with Inside Solutions. They came out and did the measuring for my blinds at my new home. The company kept in touch while we waited for the blinds' arrival. Then the team provided prompt and professional installation. I have no complaints and I would not hesitate to use Inside Solutions again."
Give your home the touch of elegance it deserves. Order your custom-designed window shutters from Inside Solutions today!
Visit https://insidesolutionsllc.com for full details.