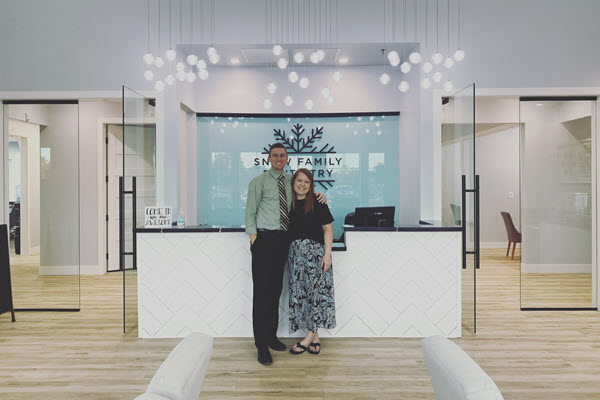 Snow Family Dentistry (480-982-7289) is now conveniently located 4420 E Baseline Rd, Mesa, AZ 85206. More details can be found at https://www.snowfamilydentistry.com/
This leading Mesa, AZ dental office is committed to providing consistent, high-quality care. They've announced the opening of their new state-of-the-art facility which offers all the latest conveniences of a modern dental practice. The new facility is built with safe dental care in mind during the COVID-19 pandemic including enhanced air filtration, illness pre-screening, contactless paperwork, and other protective measures.
The office provides a wide variety of dental services and procedures to address all dental health needs. By combining quality patient care with up-to-date technology, they're able to treat patients of all ages in a comfortable and relaxing setting. The dentists and expert staff are trained to not only treat patients but to identify what caused the health concern in the first place. This comprehensive approach sets patients of Mesa Gilbert Arizona on the road to recovery and long term oral health.
The clinic is child-friendly and offers sedation.
Owner, Dr Dallin Snow adds, they're "proud to be expanding their presence in the Mesa/Gilbert, area of Arizona. The new office helps to deliver on commitment to provide patients with comfort and care. The team are so excited and patients so-far love it, which is the most important of all".
About Snow Family Dentistry - https://www.facebook.com/SnowFamilyDentistry
Snow Family Dentistry has been a family business for over four decades, passed down from father to son. They provide preventative care (oral cancer screening, perio maintenance & dental cleanings, gum disease treatment, sealant), restorative care (dentures, fillings, crowns, implants, bridges, extractions) and cosmetic dentistry (Invisalign, teeth whitening, veneers) as seen here https://www.snowfamilydentistry.com/services/cosmetic-dentistry/
A satisfied patient said, "Everyone was welcoming and knowledgeable. Scheduling was a breeze and very helpful. The doctor called the day before to see if they could do anything to make my visit more comfortable. There was a welcome sign at the door with my name on it when I arrived and a welcome goody bag. The office itself was immaculate. I'm happy I found Snow Family Dentistry."