These Heartbreaking Then And Now Photos Show How Destructive Nepal Earthquake Was
On 25th April, Saturday, at 11:56 am local time, a powerful earthquake measuring 7.9 magnitude struck the central part of Nepal killing hundreds of people and leaving thousands of them injured and homeless. The quake was so devastating and strong that the tremors were felt in eastern and northeastern parts of India. Here are some 'before and after photos' of the disaster that demolished many temples, towers, buildings and roads in the country.
1. This is Kathmandu's Darbar Square, a UNESCO World Heritage Site before it got struck by the quake.
2. 17th century Vatsala Durga temple in eastern part of Kathmandu's Bhaktapur is now completely ruined.
3. Dharahara Tower, the 9-storey UNESCO heritage tower is badly destroyed with impossible chances to get reconstructed.
4. The tower which is Nepal's historic landmark was built in 1832 and it had already been hit by another powerful quake in 1934.
5.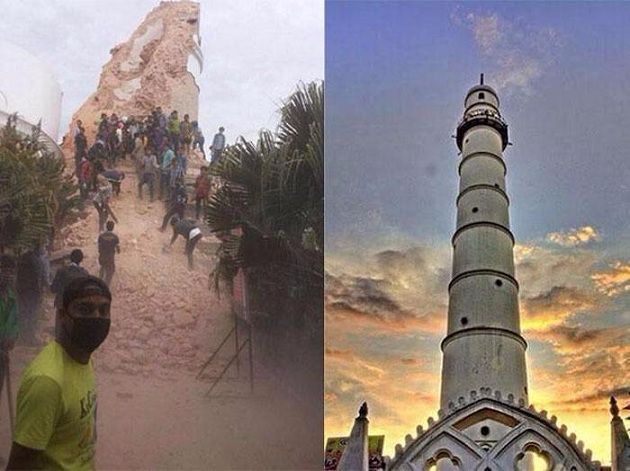 6. A royal Basantapur palace at Durbar Square is now reduced to rubble and it's totally unrecognizable.
7. The magnificent big white Kal Mochan temple at Kathmandu's Valley is now gone.
8.  This is Patan Durbar's Bhupatindra Malla statue pillar taken by a tourist during his visit to the place.