11 Mouthwatering Dishes From South India That Will Make You So Hungry. Yummy!
I know you are expecting to read something about dosa, idly, sambhar and rasam. Forget these clichéd food stuff, there is a lot more to South Indian cuisine that needs to be discovered. Most of them being rice-based, it would give you a well-deserved break from your roti routine. As a foodie, I consider it my duty to 'enlighten' you about these delicious dishes with gobbledegook names.
1. Pongal
This hot porridge-like preparation of rice, dal, black pepper and oodles of ghee cannot be missed. It even has a harvest festival named after its sweet variant. If you have a sweet tooth or you are too lazy to pick out all the pepper corns out of Ven Pongal, give Milk Pongal and Sakkara Pongal a try!
2. Idiyappam
For those still struggling to pronounce 'idiyappam', it is called String Hoppers in English. Though traditionally vegetarians have it with coconut milk or tomato kurma and non-vegetarians with mutton gravy called Paya, Idiyappam is very versatile that you can add any flavour to it.
3. Aviyal
This "Children's not-so-favourite" curry (Who would like to have so many veggies at a time?) is right from God's Own Country. A curd and coconut-based gravy makes it delicious. Feel free to crucify anyone who cooks it without coconut oil.
4. Vathal Kuzhambu
If I were to get a rupee every time someone pronounces it as "Kuzambu", I would have watched all the IPL matches in Feroz Shah Kotla stadium. This thick tangy gravy will make you go weak at your knees if had with roasted Appalam (papad).
5. Adai
This multigrain half-brother of dosa which is on the heavier side has to be served with Aviyal to do justice to some ancient brainy inventor.
6. Upma
Though this instant breakfast has become popular all over the country, go to Karnataka to have the best of "Uppittu" as it is known over there. Oh wait, here's the list: White Rawa Upma, Wheat Rawa Upma, Coarse Rice Upma, Semiya Upma, Oats Upma the most delicious of all- Idly Upma (left-over idlies dust themselves in gun powder and get ready for the show next day).
7. Bisibelabath
While it leaves you wondering if it is rice in sambhar or sambhar in rice, Bisibelabath is a food straight from Heaven. How can someone not love this semi-solid melange of vegetables, spices and rice, topped with chhota onions and Vadagam! (rice/tapioca flour fries)
8. Puliyodharai
Don't mind my discontinuous phrases while I'm lost in tangy thoughts. Tamarind rice. Simply addictive. Failing to add roasted groundnuts is a punishable offence. Tastes better at temples.
#forever_prashad-zoned
9. Thuvayal
You will ditch your love white coconut chutney to marry this strong sister of hers. Pulses, spices, coconut, tamarind, mixer grinder – MAGIC. Thuvayal goes well with anything from rice, roti to dosa and idly. But, the expert recommends a certified combination of Thuvayal rice with Vathal Kuzhambu. Mouthgasm!
10. Paniyaram
One look and girls go "Aww, how cute!". Perfected dosa batter, coconut chunks, crunchy tempering, compact size, everything about Paniyaram makes you go 'drool'.
P.S.: It is served with moong dal ka sambhar and three types of chutney or vada curry.
11. Puttu
How nice to have something so perfectly tubular on your plate! Its sand-like texture and sweetened coconut layers, served with bananas will never disappoint your sweet tooth.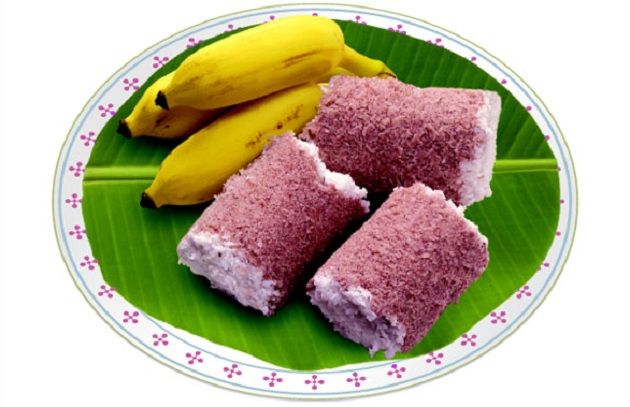 And yeah, it is very healthy as it is cooked in steam. Like this…