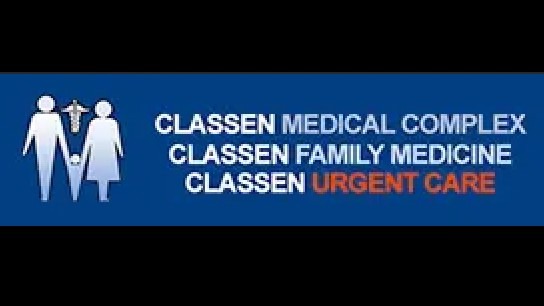 Did you hear the one about the guy who swallowed a gallon of invisible ink?
He spent hours in the Emergency Room, just waiting for someone to see him...
Okay, jokes aside, I need to take a minute to add a disclaimer here.
If you or someone you love is having a medical emergency - the answers you need are not in the blog, please call 911, or go to an emergency room.
With that being said, if your life is not in immediate danger, you've got options - and they can be a lot more cost-effective than visiting the ER.
For example, if you live in Moore, South Oklahoma City, Norman, Newcastle, or Mustang, you can visit Classen Urgent Care in Moore, at their fancy new clinic, for a fraction of the cost.
No appointment? No problem. You can call, text, or just walk in. Get directions to the clinic from their website at https://www.classenmedicalcomplex.com/classen-urgent-care-moore/
At the new clinic, Urgent Care is available for anyone aged 3 and older, with no appointment necessary. Of course, they also offer a full range of medical services as well as urgent care, including occupational medicine, accident care, and primary health care for all ages.
If you haven't seen their new facility yet, it's located nearby to the clinic's original space. In fact, it's approximately 100 yards away and to the East. While the location is nearby, the new building allows the clinic a chance to expand, provide more space for clients, and potentially offer additional services in the future.
The new location is open every day, from 7 AM - 8 PM, for both walk-in clients and appointments. Urgent care cases are also welcome at any time the clinic is open, though as previously discussed if you're suffering from a heart attack, stroke, head trauma, or life-threatening injury, you are strongly encouraged to call 911 or go to the nearest Emergency Room.
What makes Classen Urgent Care special though?
It's not the new clinic space, or taking walk-in appointments - it's the people.
The clinic is owned and operated by local community members and has won several awards in recent years for exceptional service. These include the Best Urgent Care Clinic award for Moore and South Oklahoma City two years running, and a special honor from the Cleveland County Commissioners for its assistance to the community during the pandemic.
Their work with the community didn't start or end with the pandemic though, the clinic and staff are well-known for their years of support for charitable causes and community projects.
As part of its newest community project, the clinic is providing school and sport-related physical exams at a reduced flat rate of only $15, for all students between kindergarten and grade 12. This community project is available at all the clinic's locations, for new as well as existing clients, and has no expiry date.
Of course, the real proof is in how their patients feel about them - and that's an easy thing to find out.
A quick Google search shows the clinic has over 1800 reviews, with an astounding average of 4.8 out of 5 stars - most places couldn't get a rating that good if they offered free ice cream and hot chocolate.
As one satisfied client said, "This minor emergency clinic was absolutely outstanding... I remembered this clinic was new so I gave it a shot. It was very clean, the staff was excellent, and Jacob the PA I saw was outstanding. I will most definitely use this facility again if needed."
It's important to understand that "Urgent Care" doesn't include all emergencies, and some injuries require an actual emergency room.
For anything else though, I suggest getting the best possible care, from the friendliest medical team, at the best possible price, and you can only get that at Classens Urgent Care in Moore.
Visit https://www.classenmedicalcomplex.com/classen-urgent-care-moore/ to learn more, or to book an appointment, and see for yourself.