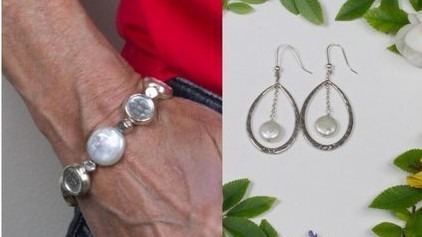 This spring it's all about pearls, and Amasor Jewelry has some of the most beautiful pearl jewelry in America.
The jewelry boutique's new pearl collection has been designed for you if you have a distinct sense of style and are looking for handcrafted one-of-a-kind pieces that will help you express your individuality, and dress up your everyday outfits. The head jeweler at Amasor Jewelry, Amy, has long had an affinity for the pearl, which she sees as a particularly dynamic and beautiful gemstone. As such, in her new individuality collection, she is giving you several distinct pearl styles, including traditional freshwater pearls, more modern mother-of-pearl, and uniquely shaped and colored stones like coin pearls.
Go to https://amasorjewelry.com/ to find out more.
As a recent article on Marie Claire called 'The Peal Trend is Back for 2023' stated, pearls are the biggest trend for jewelry in the Spring 2023 fashion season. They also described the stones as being "not only timeless and traditional but also unique and dynamic", and it is both their classic elegance and very of-the-now shimmer and bold structure that Amy at Amasor Jewelry has harnessed for you with her new pearl collection.
If you are after a very 2023 minimalist interpretation of the pearl, Amasor Jewelry has pieces like their Mother of Pearl Pendant. This necklace partners a uniquely and distinctly shaped flat mother-of-pearl stone with a fine and long sterling silver chain.
If you want a more structured and statement look, Amy at Amasor recommends their new Keshi Pearl Necklace to you. Keshi pearls are a distinctive style of irregularly shaped pearl that is renowned for its unique, often gold-sheened luster, and in this piece, Amasor crafts them into a unique collar-style necklace.
Amasor Jewelry also has new earrings and bracelets in their individuality collection that you're sure to love, with popular new pieces including their Wire-Wrapped Pearl Bracelet. This bold yet elegant bracelet gives you six gold-filled strands of unique, natural sea foam green pearls.
Amy at Amasor Jewelry has handcrafted each new piece in her pearl collection and she believes that her jewelry will truly capture and express the style of unique, confident, and feminine women like yourself. As she makes each piece by hand, she also enjoys helping you to pick the right piece and to style them with the right outfit.
Head jeweler Amy said, "I am not sure how to describe what makes my jewelry so different. I do not have just one style because I love everything from sapphires to seed beads to pearls to ethnic beads, thus I design jewelry that is from ethnic to elegant to everyday."
Whatever your sense of style is, Amasor Jewelry has the perfect pearl piece to make it come alive.
Visit https://amasorjewelry.com/ if you would like to shop from their stunning pearl individuality collection.