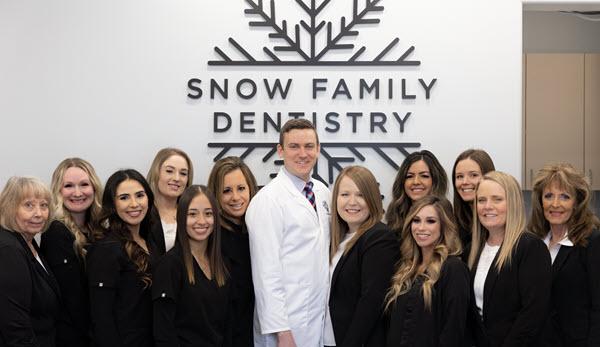 Do you want to have perfectly aligned teeth without wearing ugly metal braces? Invisalign is the perfect solution for you! And the experienced doctors at Snow Family Dentistry offer this cutting-edge treatment.
The procedure can effectively but discreetly correct your misaligned teeth. Invisalign uses clear plastic aligners that are practically invisible.
Learn more by visiting https://www.snowfamilydentistry.com/services/cosmetic-dentistry/invisalign-mesa-az
While many adults take advantage of this procedure, it is also suitable for older children and teenagers. In contrast with traditional braces, the aligners are adjusted every one to two weeks, so you can see results faster.
According to the American Association of Orthodontists, about four million Americans wear braces - and roughly a quarter are adults.
While metal braces are more prevalent, their conspicuous appearance will likely put you off. As such, Snow Family Dentistry offers Invisalign as a more convenient and aesthetically pleasing alternative.
The aligners can effectively treat issues such as overbite, underbite, crossbite, open bite, and tooth gaps. Before each one is created, a dentist will use 3D photography to create a customized mold for you.
Since the clear plastic aligners are not fastened by wires, they can be easily removed before you eat or brush your teeth. Moreover, Invisalign braces are more comfortable as there are no metal parts that protrude inside your mouth. They are also easier to clean as the absence of posts, wire slots, and bands means food particles cannot get trapped.
For convenience, you can book a consultation online https://www.snowfamilydentistry.com/mesa-az-invisalign-orthodontics-clear-aligners/
Snow Family Dentistry, jointly headed by Dr. Dallin R. Snow and Dr. Paul R. Snow, has over 40 years of dental expertise. In addition to Invisalign therapy, it also offers services such as dental implants, veneers, teeth whitening, and sleep apnea treatment. The clinic's service area includes Dobson Ranch, Reed Park, Superstition Springs, Las Sendas, and Alta Mesa, among others.
A spokesperson says: "At Snow Family Dentistry, we are passionate about the impact that proper oral hygiene can have on a person's life. Through sound dentistry, along with the right habits at home, we believe that any patient can enjoy a bright, brilliant smile and all the self-confidence that goes along with it."
You too can have a picture-perfect smile with Invisalign. So what are you waiting for? Ask about this treatment from Snow Family Dentistry today!
Check out https://www.youtube.com/watch?v=p6kL5mO-nZk for more details!