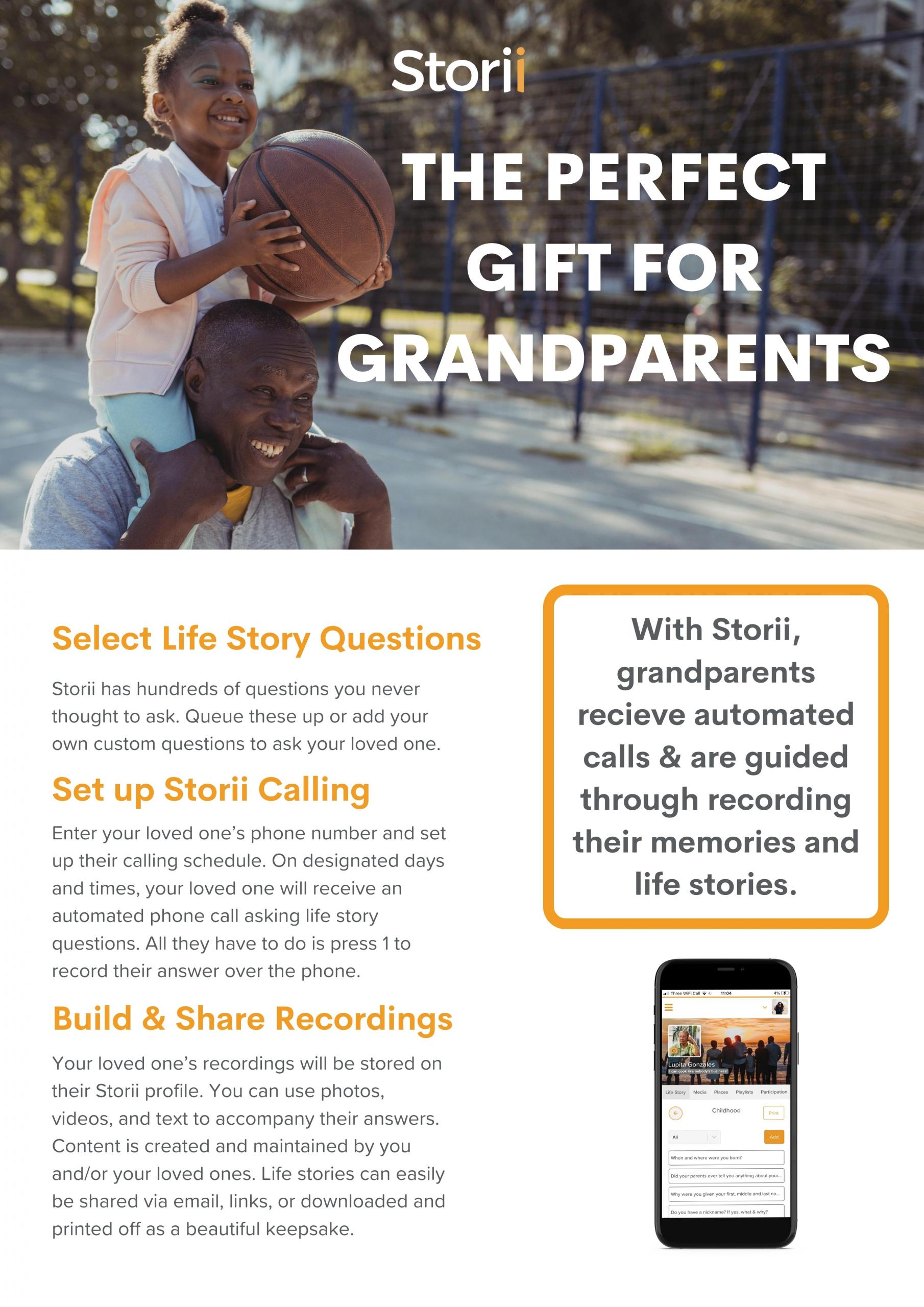 A wise man once said, "We are all stories, in the end". So, what words will you use to describe yours or your grandparents? Would you give Haruki Murakami a run for his money or is J.R.R. Tolkien more your style?
Either way, words have power and stories are endless. No one ever truly dies when their life is written down.
Give the gift of life to those you love the most.
Storii helps you give the perfect gift to your grandparents: an easy-to-use monthly subscription or pre-paid 12 month gift to its online memoir writing and personal journal writing system.
The memorable gift for grandparents allows them to record their life stories through a series of curated conversation prompts. On designated days and times, grandparents will receive an automated phone call asking a Life Story question that they can then answer for 10 minutes. Individuals can use either a landline or a smartphone to receive calls.
You can purchase Storii at https://www.storii.com/gifts-for-grandparents
The recorded message is stored on the user's dashboard where you can edit it for grammar and coherence. With the subscription, you can also include interactive media to make your grandparent's stories stand out.
All Storii subscriptions include 3 Life Story phone calls per week, with access to over 1,000 questions that can be answered manually with text, photos, videos, and audio recordings in addition to the calls received.
Want to add your own story prompts? No problem! You can add custom questions or even edit existing ones if you believe that your loved one will respond better to the adaptation.
You have complete control over what you want to be asked or when these questions will be used. Thinking of building up on a story? Select which questions will be asked and when.
After a recording is completed, the audio file is immediately stored in the user's profile and a text will be sent to those connected to that account (aka you!). An automated transcription will be posted below the stored audio recording after around 2 minutes.
You can choose to give your grandparents either a monthly subscription or a pre-paid 12 month gift depending on what your family wants. Once your grandparents' stories are completed, you may decide to downgrade their subscription to the basic account. Don't worry! All answers will remain stored in the profile in a read-only format.
One Storii subscription is connected to only one number. While two people could take turns answering a question, it is recommended to give separate subscriptions for each person.
All Life Stories can be exported and made into a coffee table book or an interactive playbook.
Currently, all calls are made in English but users may answer in any language they choose.
A spokesperson for the company said, "Looking for something special to give your grandparents or a great gift idea? Storii guides families and individuals in digitally recording memories and stories they want to preserve for their loved ones."
Go to https://www.storii.com/gifts-for-grandparents so you can learn more.