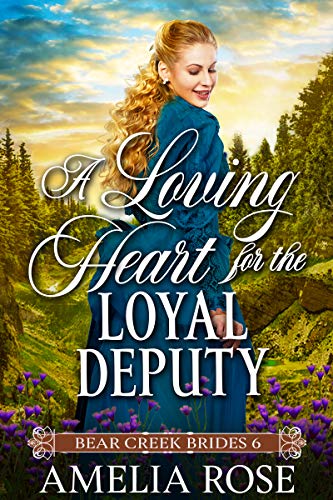 Is your book shelf look a little bare? Are you a sucker for a soppy love story? Look no further than Amelia Rose.
Her new book is titled "A Loving Heart For The Loyal Deputy". It's a work of fiction and is the sixth book in the author's Bear Creek Bride series, a selection of connected love stories that are all based in the western states of the USA in the 1800s and 1900s.
Go to https://www.amazon.com/Loving-Heart-Loyal-Deputy-Historical-ebook/dp/B08C32SJ27 for more info.
If you consider yourself a fan of romantic fiction, you're certainly in for a treat. This book is a dramatic love story that's described as being full of surprises and engaging twists and turns. It's ideally suited to readers who like books in the Western and Romance genres.
The story is predominately set in Montana in 1893. It begins when a young woman named Bethany Duncan and an upstanding Deputy Sheriff called Tanner Williams meet.
Hundreds of miles apart, the couple meet when Tanner places an ad for a mail-order bride in the paper. Desperate to escape her hometown and the clutches of her domineering father, Bethany responds and travels to Montana to be with her new love.
But all is not well when Bethany arrives in Tanner's hometown. The town is full of danger and violence, and Bethany soon discovers that the young deputy is struggling with his own demons.
As their relationship begins to come undone, Tanner and Bethany start to question the mail-order bride system. Will these threats to their blossoming romance prove too much for the couple or will the love they share be enough to conquer all?
Interested in adding this gripping read to your bookshelf? You can find it on Amazon. It's currently available on Kindle and as a paperback. The book has been awarded a 4.5-star rating and previous readers have enjoyed the plotline, character development, and historical accuracy.
A reviewer says, "This was an excellent book written by Amelia Rose and I enjoyed reading it. It's the kind you can't put down. Another wonderful western romance. Buy the book and find out what happens. Enjoy."
About The Author
Amelia Rose has published more than 20 western fiction novels. Her previous titles include 'The Untangling Of Two Hearts', 'Healing A Self Conscious Woman's Heart', 'The Rancher's Fiery Bride', and 'A Division Of Two Hearts'.
If you're looking for a dramatic, enchanting and romantic story, look no further than Amelia Rose's latest offering.
Go to https://www.amazon.com/Loving-Heart-Loyal-Deputy-Historical-ebook/dp/B08C32SJ27 if you would like more info on Amelia Rose and the release of 'A Loving Heart For The Loyal Deputy'.