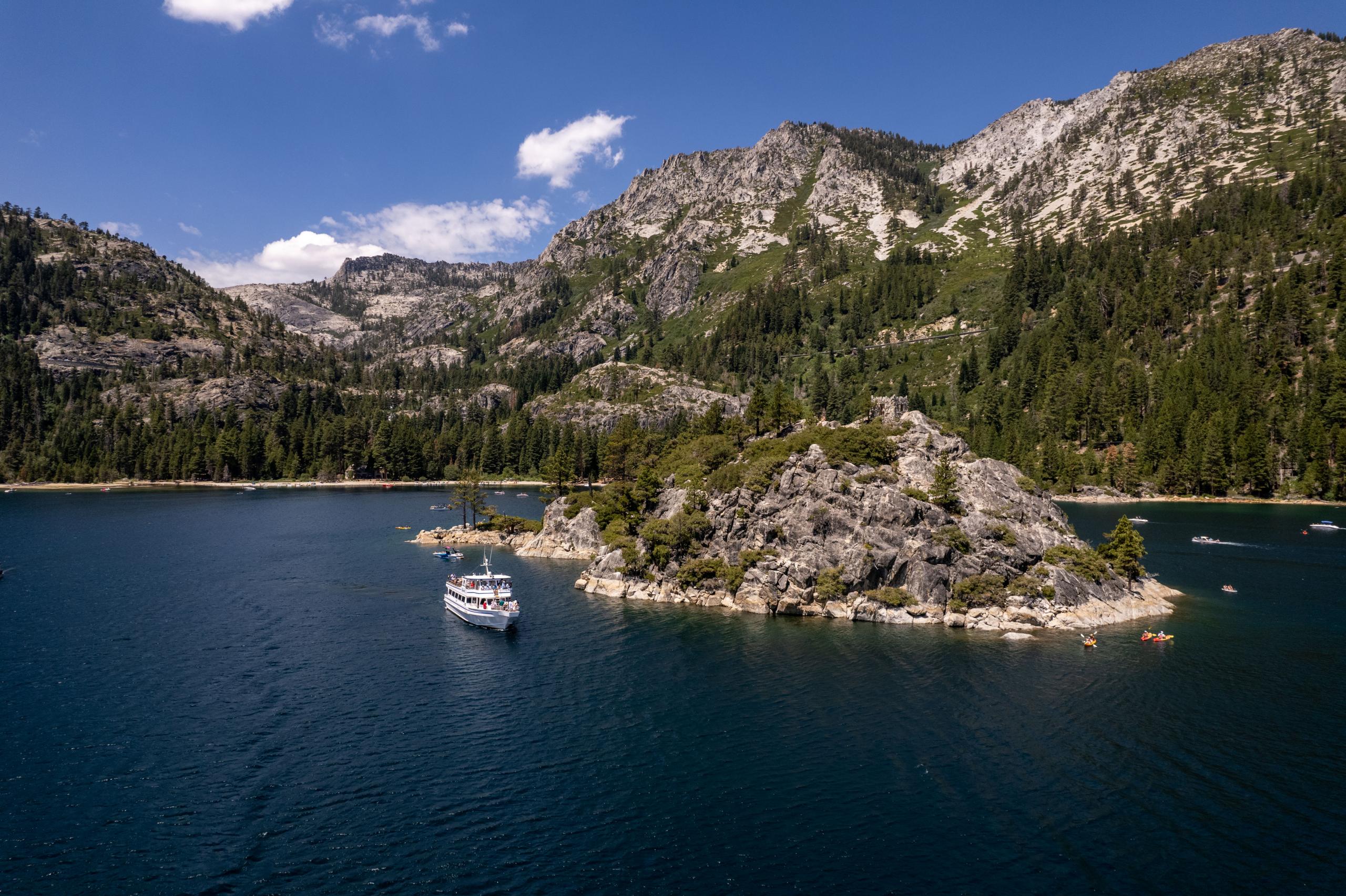 Enjoy a tranquil afternoon or evening out on the lake with your friends and family!
The South Lake Tahoe boat tour agency offers luxury sightseeing experiences aboard full-service yachts on the crystal clear waters of Emerald Bay and the South Shore.
Go to https://tahoecruises.com for more information.
Included are the Day Cruise, which runs from 12:00-2:00 pm, and the Sunset Champagne Cruise, which runs from 4:00-6:00 pm Wednesday to Saturday. All cruises depart from Ski Run Marina and head towards Emerald Bay, passing famous landmarks such as Eagle Falls, Vikingsholm Castle, and Fannett Island (the only island in Lake Tahoe) along the way.
Lake Tahoe is also home to a variety of wildlife. Osprey and bald eagles are frequently spotted in the skies and surrounding pine trees. The lake also has three species of trout (Mackinaw, German Brown, and Rainbow), as well as Kokanee salmon. The occasional bear is also seen on the shore or swimming in the water.
Tahoe Cruises operates two yachts daily—the Spirit of Tahoe runs the majority of the daily cruises while the Safari Rose is available for weddings, private charters, reunions, and more. Each yacht has a full bar with alcoholic and non-alcoholic drinks, food, indoor/outdoor seating, and restrooms. For private functions, catering, flowers, cake, music, photography, and more can also be arranged.
Every cruise is staffed with U.S. Coast Guard Certified captains and crew and includes historic narration of the area. Cruises operate rain or shine, however, captains reserve the right to choose alternate destinations if weather threatens the safety of passengers and crew. All boats are family-friendly and smoke-free.
Started in 1979, Tahoe Cruises is the longest-running family-owned cruise company on Lake Tahoe. For the past five years, they have been voted Best Cruise by Tahoe Daily Tribune readers. The Safari Rose, Tahoe Cruises' flagship yacht, was built more than 50 years ago and cruised the waters of the Great Lakes and the Caribbean before settling in Lake Tahoe.
A satisfied customer said, "What an awesome experience. The staff was very friendly and knowledgeable. The boat was clean and comfortable. Even the weather cooperated. We couldn't have asked for a better scenic cruise. Would highly recommend it."
With Lake Tahoe and the magnificent Sierra Nevada mountains as a backdrop, there is no better place to spend a summer afternoon! Learn more at https://tahoecruises.com