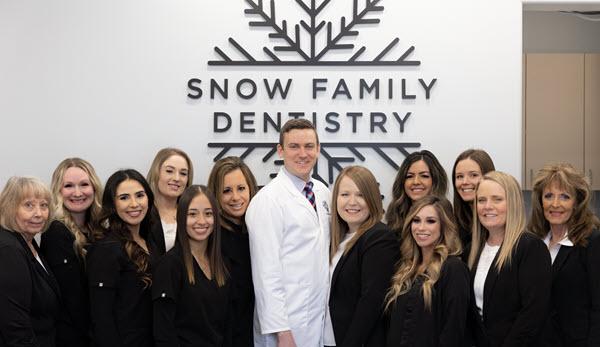 Are you hiding your smile because you're not very happy with your teeth? It's not too late to correct your malocclusions, and you can do so discreetly, without anyone noticing.
Snow Family Dentistry offers the latest in orthodontics - Invisalign clear aligners. Using a series of transparent thermoplastic aligners, the Invisalign system will gently guide your teeth into an ideal position.
Unlike standard braces that require brackets and wires to stay in place, Invisalign is custom-made to fit firmly over your teeth, similar to how retainers are worn.
Visit https://www.snowfamilydentistry.com/services/cosmetic-dentistry/invisalign-mesa-az to learn more about this exciting treatment.
According to scientificamerican.com, nine in ten people in the U.S. have at least slight malocclusions, a medical term for misaligned teeth. Apart from causing insecurities, crooked teeth, when left untreated, could cause other dental issues like gum disease and tooth decay.
Although metal braces are more prevalent, most people shun them because of how conspicuous they are, opting instead for discreet Invisalign for straightening their misaligned teeth.
Besides being less noticeable, Invisalign aligners are more comfortable and offer greater flexibility than traditional braces, since you can remove them to eat, drink, or attend a special occasion.
Invisalign can be used to correct many orthodontic issues, such as gaps, crowding, and crooked teeth, in addition to treating bite problems like overbite, underbite, and crossbite https://www.snowfamilydentistry.com/blog/teeth-alignment-how-does-it-work/
While Snow Family Dentistry has recorded many successes using Invisalign aligners, they may not be the right option for every patient. As such, the dentists will, during the initial consultation, examine your gum and teeth to determine if you are a suitable candidate for the treatment.
Besides Invisalign therapy, the practice offers a range of other dental services, including dental implants, veneers, teeth whitening, and sleep apnea treatment.
A satisfied patient said, "Everyone was welcoming and knowledgeable. Scheduling was a breeze and very helpful. The doctor called the day before to see if they could do anything to make my visit more comfortable. There was a welcome sign at the door with my name on it when I arrived and a welcome goody bag. The office itself was immaculate. I'm happy I found Snow Family Dentistry."
Don't let crooked teeth or any other dental issue stop you from manifesting your whole, authentic self. Snow Family Dentistry will help you get the smile you will wear proudly!
Go to https://www.snowfamilydentistry.com/ to book your dentist's appointment.