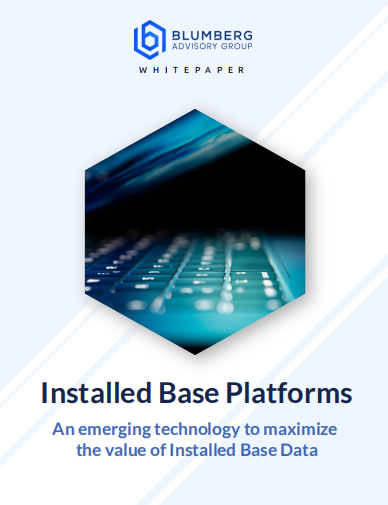 Blumberg Advisory Group has released a free report titled: "Installed Based Platforms: An Emerging Technology to Maximize the Value of Installed Base Data." This report aims to highlight the trends and challenges that Industrial OEMs face when attempting to monetize the value of their Installed Base. It also aims to outline an emerging technology adopted by Industrials as an Installed Base Platform to address those challenges and optimize revenues and profits in the Aftermarket.
The report has been made openly available and at no cost by Blumberg Advisory Group. It's available to the general public, thought leaders within the Aftermarket Service market, and anyone interested in increasing aftermarket service revenues and profits.
The report was also written with a specific focus on Industrial OEMs. Blumberg Advisory Group, the report's author, believes "aftermarket service represents a huge and profitable growth opportunity for these market participants."
When asked why they released the report at this time, Michael Blumberg, President at Blumberg Advisory Group, said: "Aftermarket Service represents an enormous, growing, and profitable business opportunity for Industrial OEMs. Analyzing installed base data to identify trends, buying patterns, service histories, and customer behavior is key to maximizing recurring revenue opportunities."
Interested parties can find the report ready to download, for free, at https://www.blumbergadvisor.com/installed-base-platforms.
Blumberg Advisory Group was founded in 1969 and is a leading research and consulting firm within the Aftermarket Service industry. It is best known for data-driven insights and strategic perspectives on the Aftermarket Service Industry.
Its unique position within its industry gives it the authority to produce such a report on increasing aftermarket service revenues and profits because of its in-depth understanding of best practices, deep expertise in service management, and extensive experience in a wide array of aftermarket industrial sectors and niches.
Blumberg's insight wouldn't be possible or their advice nearly as valuable without their 53 years spent in the Aftermarket Service Industry. For example, the report aims to examine how the lack of integration between enterprise systems can impact the ability of Industrials to monetize the value of their Installed Base data. It also gives valuable information to the reader about a new technology platform that will ultimately benefit them in generating profitable, recurring revenue from the Aftermarket.
More information about the Blumberg Advisory Group can be found at https://www.blumbergadvisor.com/.
The Report "Installed Based Platforms: An Emerging Technology to Maximize the Value of Installed Base Data" can be downloaded at https://www.blumbergadvisor.com/installed-base-platforms