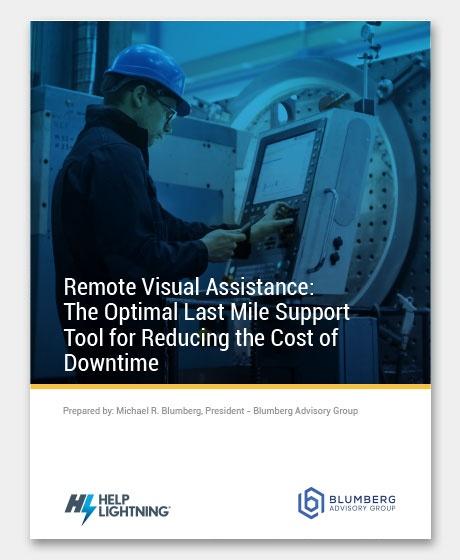 If you're worried about the impact of unplanned downtime and unforeseen situations in your manufacturing space, this report will open your mind to the importance of augmented reality. See what a difference RVA solutions can make for your business!
The new report centers on predictive maintenance and how to reduce unplanned equipment downtime to improve operational efficiency. Whether in the field service or manufacturing industries, it offers a roadmap for avoiding the consequences of downtime and minimizing expenses.
Get all the details at: https://www.blumbergadvisor.com/optimal-last-mile-support-tool-reducing-downtime-cost
The report, prepared by Michael Blumberg, the president of the Blumberg Advisory Group, discusses types of downtime, the consequences, and the economic considerations for businesses. It offers strategies for calculating downtime costs and cites the importance of Remote Virtual Assistance (RVA) in establishing zero downtime.
The report explains that unplanned downtime severely affects businesses on both an operational and financial level. Failing equipment leads to manufacturing plants that can no longer meet their goals. This can cause missed orders, revenue issues, and dissatisfaction for customers.
Industry research shows that the average cost of downtime across all businesses is $260,000. This comprises the equipment cost, recovery cost, response expenses, and productivity loss for the business in question, among other factors.
The report advises you to carry out scheduled preventive maintenance to avoid unplanned downtime. This helps to predict equipment failures before they occur. Systems can be monitored for optimal effectiveness and efficiency with performance indicators.
Blumberg Advisory Group states that RVA can be used to bridge the knowledge gap between experts in the field and those without experience. It can reduce learning curves and resolution time and ensure a higher first-time fix rate.
The report highlights that when an unplanned situation does occur, RVA enables you to have a faster response and more effective results.
Michael Blumberg states: "RVA plays a massive role in preventing unplanned downtime and reducing costs when it does occur. The location of RVA in the service delivery process makes it an optimal 'last mile support' tool or 'missing link' for achieving a Zero Unplanned Downtime maintenance environment. This technology also delivers tangible and immediate benefits to companies in the early stages of developing proactive maintenance or operating in a reactive mode."
This report is a must-have resource if you want to prevent unplanned downtime and reduce costs. Check it out today!
Check out https://www.blumbergadvisor.com/optimal-last-mile-support-tool-reducing-downtime-cost for any extra info you need!