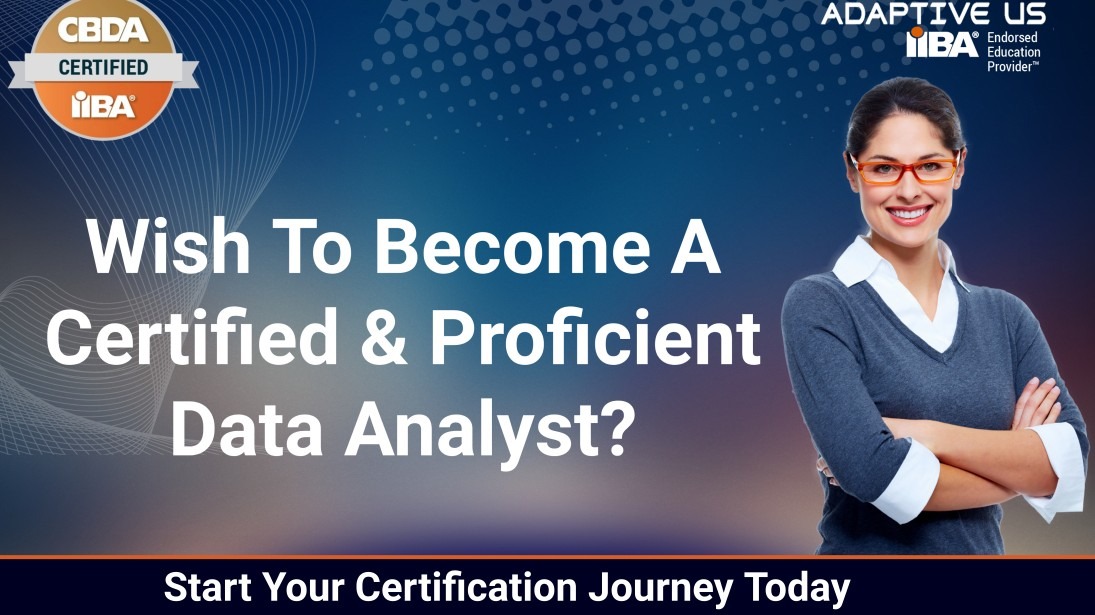 So you're a business analyst. Maybe you hold a CCBA or a CBAP. You could always stop there; you've got the core requirements to do your job.
But maybe you want more. Maybe you want to stand out among your fellow business analysts. Maybe your dream job requires a CBDA certification. Or maybe you just want to add more skills to your arsenal. After all, what's life if you're not constantly striving to improve yourself?
And that's where Adaptive US comes in. With 40 hours of hands-on training, live instructor teaching, study guides, and more, Adaptive US' Data Analytics Bootcamp will have you CBDA-ready by the time it's over!
So go on and visit https://www.adaptiveus.com/data-analytics-bootcamp/ to get started!
Did you know? Business analysts are currently in demand among small and large businesses alike; the U.S. Bureau of Labor Statistics predicts that employment for business analysis positions will increase by up to 25% by 2030. You don't need to analyze those numbers to recognize how promising that is!
Unfortunately, that's not the full story. Although a degree in business administration or finance can help you get a position, a Certification in Business Data Analytics (CBDA) increases those chances, as it allows employers to identify competent business data analytics professionals. Adaptive US has thus launched the Data Analytics Bootcamp, which is suitable for business analysts who want to upskill, as well as current CCBA and CBAP holders. If you fall into any of those categories, then this is the course for you!
The course consists of 40 hours of live training from certified instructors, along with IIBA-approved courseware. You will learn how to use key functions in common business analyst programs, such as Microsoft Excel, SQL, and Tableau. The course also includes many hands-on sessions and live projects where you will be given the opportunity to apply what you've learned to existing case studies.
In addition, the Data Analytics Bootcamp will provide you with comprehensive study guides, live exam preparation, business analyst resume and interview preparation, and data analytics job aids. By the end of the course, you can be totally confident in your credentials! And you will have learned how to perform the essential tasks outlined in the IIBA Guide to Business Data Analytics.
Adaptive US has helped over 1,500 business analysts complete IIBA certifications and remains one of the leading trainers in the industry. Their instructors have over 20 years of business analysis experience, and the company has provided their business analysis services for large clients such as Wells Fargo, HP, and Unisys.
A satisfied student said: "I just passed the CBDA exam, and I can confidently say that I would not have passed without the help of the Adaptive US study materials! The study guide, class recordings, and exam questions made things super easy for me. I highly recommend them for CBDA."
And that student is only one of the many who have passed their CBDA exam thanks to Adaptive US. In fact, Adaptive US is so confident in the Data Analytics Bootcamp that they guarantee a 100% success rate—or you get your money back, also guaranteed! No need to interpret those numbers to know that you don't lose out at all!
But chances are, you won't need to ask for a refund. With such an exhaustive list of subjects, and all taught by the most experienced instructors to boot, you're sure to pass your IIBA exams on the first go-around.
Your certification awaits you. Visit https://www.adaptiveus.com/data-analytics-bootcamp/ to get started!