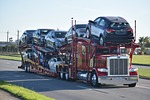 Stephen Covey, author of the bestselling book, 7 Habits of Highly Effective People says, "Moral authority comes from following universal and timeless principles like honesty, integrity, and treating people with respect." These are truly inspiring words to live by, especially in business. No wonder Mr. Car Shipper was honored with the BBB Torch Award for Ethics.
The prestigious award was presented in recognition of the company's commitment to honesty, transparency, and service in the car transport industry. As a customer-oriented business, Mr. Car Shipper prides itself on implementing protections that benefit customers, from quote to delivery.
Check out https://www.mrcarshipper.com?utm_source=twg&utm_medium=pr&utm_id=clearwater+fl+JAN23amp
Mr. Car Shipper, which holds an A+ rating from the BBB, is honored to be recognized as a trustworthy business, and in response, has announced further expansion of its services. The company has been providing high-quality car transportation solutions for over 17 years, and is proud to now be serving more customers throughout Florida.
In response to the award, CEO and founder Jerry Teeter had these words to share in gratitude to his staff and customers: "Words cannot describe how proud I am of the Mr. Car Shipper team, our dedication to a customer-first mindset while proving with this BBB award that our integrity as a car shipping company is unparalleled in an industry that generally takes advantage of the customer and is not truthful upfront. We are proud of this award and our commitment to excellence."
Mr. Car Shipper has served over 10,000 satisfied customers through the years and is a trusted partner of moving and storage companies such as PODS, UPACK, North American Moving Company, Atlas, Zippy Shell, Pack-Rat, and many others.
Mr. Car Shipper provides you with contingent cargo insurance that protects you and your auto products from damages caused by accidents. Additionally, they only work with carriers that offer a minimum of $100,000 coverage per vehicle. They offer an exclusive insurance policy that gives an additional $100,000 in coverage, something 9 out of 10 brokers do not provide.
Moreover, Mr. Car Shipper is constantly monitored for customer satisfaction and performance by AHRN (Automated Housing Referral Network) and other moving industry leaders.
As another testament to their commitment to providing forthright services and helping elevate industry practices, they warn clients like yourself about the common tactics other car moving brokers employ, such as the bait and switch quoting schemes.
Your search is over! You've found the auto moving company you can trust - from quote to delivery! Call +1-877-421-1284 for a free quote today!
Visit their website or watch this video https://youtu.be/W0G-uHOUt3Y to know more!