22 Of The Most Hilarious Photoshop Master Responses To Beauty and Requests
Do you know the basics of Photoshop?
Have you mastered it to a level that you can do anything with it?
Surfing the Internet, we came across a few Photoshop masters. Judging from the pictures they share, it looks like they know practically every tool in Photoshop so well that they can easily recreate any idea that comes to their mind.
Here is how they have responded to requests for editing pictures and how they use their Photoshop skills and imagination to "improve" photos.
1. So here I am… holding the sun with my fingers.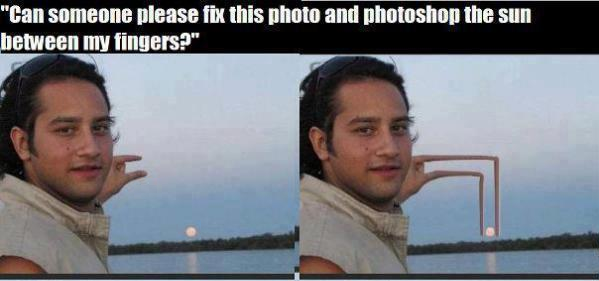 2. Let's get rid of the kid from that photo.

3. No more cows in the river.

4. Watch out, cause I have a BIG booty.

5. It's been such a long, but productive day for us all.

6. Welcome to America, Andrei.

7. I'm glad I am not thirsty

8. One of the top tourist attractions in London – the Big Ben.

9. Can you make me into a unicorn?

10. What do you think about this Kardashian look?

11. All my friends say that I have a neck like a giraffe.

12. My girlfriend forgot to wear shoes.
13. Make his corn dog whole again. 
14. Pet me in a Bugatti. My friends will be jealous. 
15. James, clean the stone wall for me. 
16. I'm cool and Tumblr.
17. Put my friend in a less awkward pose.   18. Jim at the wedding  19. Oh, she looks so bad. 20. Transfer me to the Titanic, because I am hungry for love. 21. Mate, fix that ironing board.